Whatever ideas visitors have about race are sure to be challenged by the Mashantucket Pequot Museum & Research Center's new exhibit,
RACE: Are We So Different?
The exhibit examines the history of the social construct of race and our experience of race in daily life, demonstrating that it is not just a "black and white" issue. 
   Using interactive tools and video, the exhibit explores the fact that scientific research shows humans as genetically the same, with one race no different from the others. The concept of race is murky, with fascinating gray areas.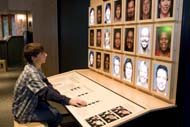 According to the American Anthropological Association, who created the traveling exhibit with funding by the Ford Foundation and National Science Foundation, we "have been conditioned to viewing human races as natural and separate divisions within the human species based on visible physical differences."   Scientific discovery dispels this conditioning, showing "that human populations are not unambiguous, clearly demarcated, biologically distinct groups."  One of the most surprising and illuminating facts revealed in the exhibit is that the highest rates of physical variation occur not between racial groups, but within the groups themselves. 
   At several stops in the exhibit, visitors are invited to test their own perceptions about race. "The Colors That We Are" invites them to photograph their skin tone to compare with those of other visitors.  They are asked to share their experiences of race in a growing notebook of handwritten personal narratives.  With sometimes unexpected results, visitors consider linguistic profiling at "Who's Talking?" by listening to speakers and then attempting to match the speaker to a photograph.
   Using art, visitors are challenged to reconsider the idea that race is a specific set of traits reflected by skin tone, long used as a way to separate and categorize people.  Artist Byron Kim created a synecdoche "made up of hundreds of 8- by 10-inch panels painted to represent individual skin color."  The accompanying activity has one view an anonymous skin tone, decide on a race assignation, then flip the panel to see if the choice lines up with reality.  Predictably, two out of three are not what one might assume.
   Finally, RACE affirms that we are all members of one race: the human race.  
Info:
Where: Mashantucket Pequot Museum & Research Center, 110 Pequot Trail, Mashantucket, CT
When: May 17-September 7, daily 10 am to 4 pm, last admission 3pm
How much: Adults $15, ages 6-15 $10, ages 55+ $13, under 6 FREE
For more info: 1-800-411-9671; www.pequotmuseum.org/Home/GeneralInformation. A virtual experience of the exhibit can be found at
www.understandingrace.org/home.html
.