From dodgeball to obstacle courses, classic sports from our own childhoods are making a comeback. Find out why these old-fashioned games are great for family gatherings and kids' parties.
Summer vacations can seem endless when you're trying to arrange activities to keep your children busy for months. What happened to dodgeball or easy-to-create obstacle courses that kept you and your friends entertained with little, if any, adult supervision?
They're still here, says Alexis Noest, athletics supervisor at Rolling River Day Camp in Oceanside, Long Island. They're just not getting the same attention they once did.
"We have gotten away from the stereotypical 'roll the balls out and play philosophy,'" Noest says. "There is a much greater emphasis on team-building activities, which help students develop skills including increasing confidence, self-esteem, problem-solving, and working cooperatively with others."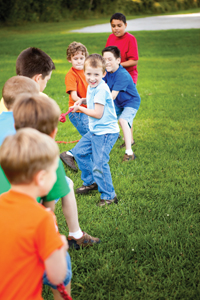 Still, many sports that may be considered retro sports, such as kickball, tug-of-war, obstacle courses, capture the flag, volleyball, or tether ball, are still played at summer camps and in gym classes today. They're also great for family parties, picnics, or trips to the park.
"Despite the vast array of classic team sports and individual sports available for kids to learn, there is always an appeal for games that are very participatory in that they can learn them easily and then just get up and play," says Roberta Katz, owner and director of Deer Mountain Day Camp in Rockland County, NY.
Many of the games are also great for large groups, which means many people can actively participate. They are also all games that can be modified to accommodate young children or those who are learning new skills.
A sport like volleyball, for example, allows many children to be on the court at one time. Each child will also be working on different skills at one time such as bumping, setting, spiking, serving, and blocking. Children will get the opportunity to find out where they excel. Additionally, because children will need to work together to return each serve, they are forced to communicate well and improve their team-building skills.
Parents who worry that their children are too young or uncoordinated to play volleyball may choose to introduce their children to the game by using lower nets, balloons, beach balls, or more colorful (and therefore more visible) balls to make them easier for children to hit, Noest recommends.
Obstacle courses can be an especially good choice if children vary in age and ability. The only downside to spending your Saturday running through an obstacle course is if the course is not well thought out, children may spend quite a while waiting for others to try their turn at the course. To avoid the problem, obstacle courses may feature brother-sister teams competing against other neighborhood children, or a mother-son team could take on a father-daughter team.
"Obstacle courses can be modified in many ways and made appropriate for children on the early childhood level and all the way up to the high school level," Noest says. "The most important things to consider when making an obstacle course for your children is what their ability levels are at the time."
Before setting up the course, parents should make sure the route can be changed if children are finishing too quickly or having too many difficulties. Parents should also test the course before letting their children run through it to make sure that it is safe.
Another game that's great for family gatherings or large groups of children is tug-of-war. While playing tug-of-war children will not only build muscular strength and endurance, they will also work on team-building, cooperation, communication, and problem-solving skills. One warning for parents: Children must be paired off depending on their physical abilities so that teams are evenly matched.
If you're hosting a birthday party, children may enjoy a game of dodgeball, which pits two teams of children against each other. The children will toss balls at each other, while also trying to jump out of the way of their opponents. Child safety is always essential for young children, but the game can be easily modified. Children may roll balls at each other or may choose to use soft, fuzzy balls instead of kickballs.
"Developmentally, all of these sports incorporate a lot of different skills like throwing, catching, running, kicking, and hand-eye coordination in a non-intimidating way," Katz says. "Each game gets kids up, outside, and interacting with their peers. They promote a healthy lifestyle and can be a great avenue in which to reinforce some important core values."
Also see: The Rise of Ga-Ga
Find birthday parties featuring classic games in the NYC area