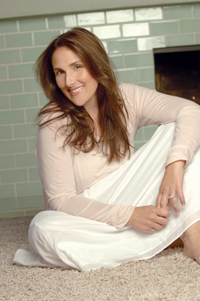 Many of us fell in love with Ricki Lake when, still in her teens, she starred as full-bodied dance dynamo Tracy Turnblad in writer-director John Waters' 1988 camp classic, Hairspray. As it turned out, that cinematic turn was just the beginning of a wonderfully varied career that includes lead roles in the film Mrs. Winterbourne and TV movies Babycakes and Loving Leah; a long super-successful run as talk show host (Ricki Lake, 1993-2004); and her current incarnation as family advocate — a passion that led her to create 2007's critically acclaimed The Business of Being Born, a documentary directed by Abby Epstein about natural childbirth (now on DVD).

This past May, Lake and Epstein released Your Best Birth, a pregnancy guidebook that zeroes in on the politics of birth and encourages parents-to-be to literally "take back the birth experience." What makes the book an exceptional read is that, in addition to presenting lots of easy-to-follow advice from medical professionals, Lake and Epstein made it a point to include several birth stories from celebrities, including Cindy Crawford, Laila Ali, Kellie Martin, and Melissa Joan Hart.

As it turned out, this aspect of the book would become a major addition to the authors' new online social networking site, MyBestBirth.com. Crawford's personal birth story launched the series, with other celebrity stories slated to follow.

Notes Lake, "Since launching the site, we've seen how powerful and healing the sharing of birth stories can be for many parents. This demand spearheaded [a] new film and gave us the idea to ask celebrities to share their very personal birth stories."

The new film, also titled My Best Birth, is scheduled for release this fall. It further explores the American maternity care system and offers in-depth information about childbirth options not covered in Lake and Epstein's prior projects.

Not surprisingly, Lake's proactive stance on natural childbirth is balanced lovingly by her views on family and her relationship with her two sons. With the birthing portion of motherhood over, here's how she approaches the follow-up challenges – and rewards – of simply being Mom.

The Facts
At work: Actress, birth advocate, filmmaker, and author. At present she serves as headmistress/host — and executive produces — the VH1 hit reality series, Charm School with Ricki Lake.
At home: Los Angeles. Mother of two sons, Milo, 12, and Owen, 7. Dogs: Jeffie and — newest member of the family — Mel.

Q. What is your favorite activity with your children?
RL: Hiking the Santa Monica Mountains with our dogs. We do it together every Mother's Day. Next month we are going on a biking and hiking family trip to the San Juan Islands. I can't wait.

Q. What is the most important lesson you try to impart to your children?
RL: I always encourage my kids to be true to themselves and to be kind to others. Treat others as you would want to be treated. That advice was given to me as a child and I try to pass it on to them.

Q. Who was your greatest child-raising influence, and why?
RL: My Grandma Sylvia was my greatest role model and child-raising influence. Though she died when I was young, I always ask myself how would Grandma Sylvia handle this situation with my kids? She was the voice of patience and unconditional love and introduced me to the arts at a very young age.

Q. What is your approach to disciplining your children?
RL: I have to say, I have never really given a time-out to either of my kids. Both my ex-husband and I are committed to being consistent with our sons and the rules are the same in both houses, for the most part. I make sure that if they misbehave, something important (such as the computer or iPod) is taken away for an appropriate amount of time. That usually does the trick.

Q. What was a memorable family outing?
RL: Just recently, my sons and I were in San Francisco with our friends and we biked across the Golden Gate Bridge. It was the most beautiful day ever!