It was the dead of winter and Roberta Perry of Plainview was feeling blue. Disillusioned with her job as Marketing Director of a start-up company, 25 pounds overweight and plagued with dry, flaking skin, Perry admits, "I was just not taking care of myself. I felt fat," she confesses, "so why even bother taking care of my skin?"

   Perry was clearly in a funk—a strange departure for the normally upbeat, artsy Merrick native who was raised to believe she could do anything she set her mind to. "Growing up my parents gave me the confidence to try," says the 47-year-old, who prospered in a career as a graphic designer after graduation from college. To this day, says Perry, "I have no fear of failure." It's just not an option, she believes. But at that low point in her life Perry knew she had to do something to make herself feel better. So, she set off for a Weight Watcher's meeting, and while there, the counselor addressed the roomful of dieters (many of whom were women and also mothers). She posed this question:    
Why is it that we do things for everyone else but not ourselves?
   The question struck a chord with Perry, a married mother of three who conducted business from home while cooking, cleaning, doing the wash, carpooling and generally multitasking to get it all done and keep everyone else happy.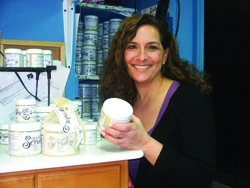 She left the meeting with two assignments—stick to her daily food plan and do something nice for herself. Perry went straight to a body care shop to buy a skincare treat—something rich and soothing that would remedy her flaking skin. "This started my obsession with body scrubs," she says, estimating that she probably sampled no less than 30 brands before finding one that worked and smelled good too. However, just as Perry settled on one particular scent—it was discontinued. She searched again and found an equally good product at an off-price retailer selling random toiletries, but when she ran out, she tried contacting the manufacturer  directly to place an order, but her attempts were unsuccessful.
Necessity—The Mother Of Invention
   Perry decided to formulate a scrub of her own. "I had to do this for myself. I wasn't even thinking about it as a business."
   The self-described "queen of online" researched the Internet, pouring through information about plant-based oils, fragrance and product packaging. Her dining room table became her workstation. After numerous test batches, she came up with a winning formula, one that was too good not to share. In 2006, Scrubz—a sugar-based, natural body scrub was born. Infused with nine natural oils and available in more than 20 scents, Scrubz appealed to those who simply wanted to pamper themselves as well as people with highly sensitive skin (it contains no alcohol, artificial ingredients or preservatives). Aside from these virtues, Perry made Scrubz even more appealing by marketing it as a 4-in-1 product. Customers could use it as an exfoliatior, moisturizer, face/body wash and as a prep for shaving.
   Perry's boundless enthusiasm for her products is paying off. She books home parties and gives product demonstrations at fairs and community events. She networks with other local business owners, sends press kits and product samples to media outlets and blogs as well.
Today Scrubz is available in Whole Foods, Wild By Nature stores, Cactus Hair Salons and online.
Work/Family Balance
   Perry works 10-hour days, seven days a week, but because she runs the business from home, she says she is always available for her children, Craig, Eric and Brooke. She still cooks, cleans and carpools, but credits husband Ross, a CPA for keeping track of her business finances and helping out with family matters. "My husband helps me by letting me do what I love to do."
   It seems the story of Perry's success has come full circle. Learning the importance of doing something nice for herself, she passes the notion forward with each batch of Scrubz she lovingly makes and sells. "I want this to be a gift for the customer." 
Biz Tips
Thinking about starting your own business? Here is some advice from Roberta Perry... "I took everything I ever learned about business and wrapped it around my own business."
• Treat people properly.
• Don't burn any bridges.
• Be sure to partner with charitable organizations and give back (a portion of proceeds from Scrubz Pink NYC is donated to the NY metro chapter of Susan G. Komen for the Cure.)
• Know when to cut your losses if something is not working.
**
A
Special Offer
for Nassau Parent Readers from Scrubz Body Scrubs founder, Roberta Perry. 
Save 20%
on any Scrubz product, including Scrubblez children's scrub. Go to
www.scrubzbodyscrub.com
, choose your product and put in the following coupon code:
NASSAUPARENT.