Denver has the perfect blend of culture and the outdoors, in a setting that promises sunny days and moderate climate.  I had this, and more — a huge thunderstorm with nearby lightning strikes — on a trip in July with my adventure-seeking 14-year-old, Sela.
   Although Denver is at the base of the Rocky Mountains, you see only flat farmland when you fly in.  My daughter thought I was playing a trick on her, but once you're in the city, you can view the Rockies from just about anywhere.  In fact, if you go to a Rockies baseball game, you can see the mountains from just about every spot; there is even a specially marked purple row, where the seats are exactly one mile about sea level.
   The first thing Sela wanted to do was Get Out. 
Get Out Colorado
is a company that offers guided hikes with an incredible level of service.  We were picked up at our hotel and given backpacks, water bottles and snacks.  Our cheerful guide carried extra water, sunscreen, rain ponchos, our camera — even 'outdoor toilet' packs, with toilet paper and hand wipes.  At the end of the hike, she gave us hot towels to clean our hands properly.  Each hike is tailored to its participants, and family hikes are a specialty.  If your kids like scrambling over rocks, this is a must. And in the winter, Get Out offers snowshoe tours.  
   The company can also include a stop at the famed dinosaur footprints — markings that were uncovered in the 1930s, but not identified until 50 years later. We stopped at
Red Rocks,
the acoustically perfect amphitheater carved out of red boulders.  In summer, this is a popular family outing for nighttime movies, and sure-footed kids will like running up and down all the steps (you can't legally climb the rocks here).  
    For more adventure, head to
Confluence Kayaks
, where you can rent a bike or kayak.  We had a lesson in river kayaking with drops and whitewaters, on the Platte River. Kids as young as 6 can ride in two-person kayaks — the guides watch the river carefully, checking water levels before setting out, or finding calm water if that's what you prefer.  Confluence provides helmets and water shoes in addition to life vests.  We paddled alongside
Six Flags Elitch Gardens Theme Park
, a downtown amusement park with huge roller coasters and water slides, and matched screams when we hit the rapids.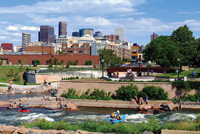 Confluence runs guided kayak trips May through August only; bikes can be rented and ridden year-round along the same river, where there's a paved bike path.  Biking around downtown is also easy; there are marked bike lanes and plenty of bike parking.  In fact, when we ate at WaterCourse Foods, an excellent vegetarian restaurant, we were one of the few parties to not pedal up to it.
   Another place to rent bikes is at the
Downtown Aquarium
, which also has tandems and surreys for rent.  The aquarium has a petting zoo and outdoor stage for performances, so you can visit even without paying the entry fee. With an Indonesian rainforest (and Sumatran tigers), and an exhibit on local wildlife, including Colorado River cutthroat trout and river otters, the aquarium is worth a visit!  There is even a mini climbing wall.
   From the aquarium, you can stroll to the
Children's Museum of Denver
or get there by river trolley or open air Platte Valley Trolley.  The historic trolleys run in summer only, and are fun just for the ride.  The centerpiece of the children's museum is a real fire engine, which kids can climb on, as long as they put on boots and a fire hat, of course. Visitors bring recyclables to the museum that are cleaned and used in 'the assembly plant'.  There is a large area just for little kids, including a meadow reserved for infants.  
   From the museum, you can hop on the trolley to REI, the outdoor and hiking gear outlet store, which has a huge climbing wall (for those over 4 feet tall) and a cold room where you can test out sleeping bags.  If you go here before you hike, kayak or bike, you can get great new equipment; if you go after an outdoor adventure, you can find what you
really
need.
  At some point, if you want to head indoors, visit the
Denver Art Museum
, which just doubled in size with a new building designed by Daniel Libeskind, and is one of the most accessible art museums around.  It offers family backpacks as well as hotspots so you can do your own artwork. There are comfortable seats everywhere, where art books and iPods are available.  You can listen to Woody Guthrie ("This Land is Your Land") or John Denver ("Rocky Mountain High") and use the attached books to sketch or write.  Anyone can design a postcard and send it to a friend, while in the studio. The gallery has computers so you can make your own buildings, and view a model of the art museum's new home. There is an architecture View-Master game.  From the terrace, you can find the real-life versions of the architectural details you've just seen on screen.
   The art museum nearly dwarfs the
Byers-Evans Museum
, a house dating from the late 1800s that housed two of Denver's most prominent families.  It is only open for tours, and guides let kids handle some of the objects — so it's perfect for families.
   We stayed at the Hotel Teatro, across from the Denver Performing Arts Center (where
The Little Mermaid
was having its pre-Broadway run).  The boutique hotel has a car that offers complimentary rides in a two-mile radius.  We took it to the gloriously over-the-top brunch at Brown Palace Hotel. Closer to Hotel Teatro, The Corner Office offers everything freshly-made; the newly opened restaurant has great salads and a mac & cheese with lobster than can make kids forget all about the little blue box.
   Denver also has a mile-long pedestrian mall, with free 'mall ride' bus.  There are cafes, including the RockBottom Brewery, that has a kids' menu and crayons, and for the parent who's been hiking, paddling and pedaling, award-winning micro-brews.
Info
—Get Out Colorado hikes start at $70 person. (303) 455-4688
www.getoutcolorado.com
—Confluence Kayaks half-day lessons start at $105 person ($160 for 2 people). (303) 433-3676;
www.confluencekayaks.com
—Six Flags Elitch Gardens Theme Park,
www.sixflags.com
—Downtown Aquarium,
www.aquariumrestaurants.com/downtownaquariumdenver
—Platte Valley Trolley,
www.denvertrolley.org
25-minute Riverfront Ride: $3 adults (ages 13-64); $2 children (ages 4-12)/seniors (65+)
—The Children's Museum of Denver is open daily, 9am-4pm weekdays, 10am-5pm Saturdays and Sundays.  $7.50 ages 2 and up; $5.50 for one-year-olds and seniors, free under age one.
www.mychildsmuseum.org
—Denver Art Museum is open Tuesday-Thursday and Saturday, 10am-5pm; Friday. 10am-10pm and Sunday, 10am-5pm.  $13 adults; $5 ages 6-18; free under age 5. 
www.denverartmuseum.org
—WaterCourse Foods,
www.watercoursefoods.com
;
(303) 832-7313, x 12
—Hotel Teatro,
www.hotelteatro.com
—Brown's Palace,
www.brownpalace.com
—RockBottom Brewery,
www.rockbottomrestaurants.com
—The Corner Office,
www.thecornerofficedenver.com
For more info
: 
www.denver.org