Get out on the Hudson River to see New York City in a whole new way!  Riverkeeper's 3rd Annual New York Water Fest is a family-friendly event giving everyone an opportunity to experience the river firsthand.  The goal is to raise awareness about the importance of the Hudson River to New York's history and culture, and about the sources of and threats to New York City's drinking water supply.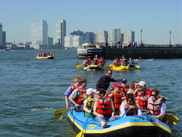 The New York Water Fest offers a variety of rafting and kayaking on-the-water activities.  The Big Apple Splash is a five-mile amateur raft race from Pier 96 to Water City at North Cove Marina. Each raft holds 10-12 paddlers and a certified professional guide.  Paddle Rally kayaking activities include the Poker Run, where experienced paddlers travel to different locations on the Hudson to pick up five playing cards; the top five poker hands win a prize.  Floating Meditation is a kayak meditation program to relax mind and body.  First timers and beginners can enjoy walk-up kayaking provided by the Downtown Boathouse, and beginner kayak lessons will be offered by New York Kayak Company.  Kayaking skills will be demonstrated at the North Cove Marina.
   Water City, the landlubber side of the festival at North Cove Marina in Battery Park City, will feature a Wellness Tent offering holistic education and mini-demonstrations of methods and practices. Take the Water Challenge is a drinking water taste test pitting NYC's finest against all the rest.  At Riverkeeper and other environmental advocacy booths, you can learn more about Riverkeeper and actions you can take to protect the environment. There will also be live music, food and vendors selling environmental products.
   Riverkeeper's mission is to protect the environmental, recreational and commercial integrity of the Hudson River and its tributaries, and to safeguard New York City's and Westchester County's drinking water supply.
Info:
What: Riverkeeper's 3rd Annual New York Water Fest
When: Sunday, October 12, 8am-5pm
Where:    Water City – Noon- 5pm; North Cove Marina in Battery Park City, Manhattan
    Big Apple Splash - Pier 96 (at W. 55th St. on the Hudson River) to North Cove Marina
    Poker Run - Pier 40 (at W. Houston St.), Pier 96, 79th Street Boat Basin, North Cove Marina
    Floating Meditation - Pier 40
    Walk Up Kayaking - Pier 40 and Pier 96
    Beginner Kayak Lesson - Pier 40
How much:  Big Apple Splash - $75
            Poker Run - $50 ($75 for both if you sign up for Poker Run and Floating Meditation)
            Floating Meditation - $50
            Walk Up Kayaking  - FREE
            Gourmet lunch is included in the price of water activities; $20 for all others
For more info: 914-478-4501 x 231; www.nywaterfest.org