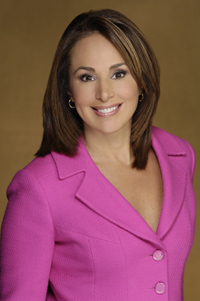 Introducing our newest feature, Celebrity Mom!  Each month, NYMetroParents will be talking with celebrities about raising their kids. Here's our first interview — with Rosanna Scotto, from Fox 5's Good Day New York.

The Facts
At work: FOX 5 WNYW co-anchor of Good Day New York, airing Monday-Friday, 7-9am.
At home:  Married to Louis J. Ruggiero; they have two children: Jenna, 19, and Louis Jr., 14.
---
Talking with Rosanna
Q
.
What is your favorite activity with your children?
RS
: Cooking. It's amazing how much they will tell you about their lives when their guard is down.
Q
.
What is the most important lesson you try to impart to your children?
RS
: That would be the importance of community service. It is imperative to give back, whether it's with time or money. In some way, you need to make someone else's life better. My son is going to Africa this summer to bring clean water and medical supplies to communities in desperate need of help. 
Q.
Who was your greatest child-raising influence and why?
RS:
My parents. They always made my brothers, my sister, and me feel like we were the most important people in the world. They taught us how to deal with disappointments with a positive outlook. They are very involved in my children's lives, too. My kids are now beginning to understand just how important family is.
Q.
What is your approach to disciplining your children?
RS:
My approach is first to talk to them about what they have done wrong. If that doesn't work, institute some sort of punishment — like no going out on the weekends.
---
A Memorable Family Outing: A Recent Visit to the Mayan Ruins


RS:
We love to explore places we've learned about. We particularly had fun floating down the lagoon in a Mayan preserve. There was plenty of vegetation and wildlife. My son had a great time trying to scare me by jumping out of the mangroves.