Forever Families Through Adoption, a NY- and CT-authorized adoption agency, receives seal of recognition for supporting LGBT families.
November 18 marked National Adoption Day-a day that saw the finalization of adoptions for thousands of children in courts throughout the country. It was also the day that Forever Families Through Adoption, an adoption placement agency and resource center located in Rye Brook, was awarded the All Children-All Families Seal of Recognition by the Human Rights Campaign in recognition of the agency's welcoming, affirming, and supportive efforts of LGBT families.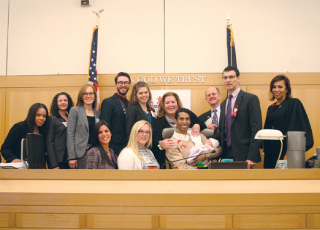 One of Forever Families Through Adoption's new families, along with some of the nonprofit's staff and volunteers, celebrated as Judge Kathie E. Davidson presided over the finalization of their daughter's adoption on National Adoption Day. Courtsey Forever Families Through Adoption.
"As we celebrate the awarding of the All Children-All Families Seal of Recognition, we are not only supporting the LGBT community," says Joy S. Goldstein, LCSW, ACSW, the agency's executive director, "but are standing up for ethical practice by removing barriers to LGBT adults who dream of becoming parents and to children in need of a safe, permanent, and loving family."
On National Adoption Day, the Westchester County Family Court finalized adoptions for three of the agency's families with the honorable Judge Kathie E. Davidson presiding. Judge Davidson has been recognizing and finalizing same-sex adoptions in the NY and CT area for many years.
Representatives from the Human Rights Campaign Foundation's All Children-All Families Initiative, members of the board, and Forever Families Through Adoption staff and families all attended the award ceremony held at the courthouse.
Forever Families Through Adoption is committed to treating everyone with respect, dignity, and compassion and welcomes all families regardless of race, religion, marital status, age, nationality, disability, gender identity, or sexual orientation.
For more information on the agency, visit www.foreverfamiliesthroughadoption.org.