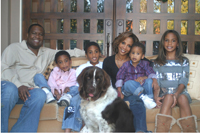 Sesame Street is known as the television show that taught generations of kids how to read, be compassionate and get along in a racially diverse world. Holly Robinson Peete, daughter of the Street's Gordon, is carrying on Sesame Street's educational mission. Along with raising her kids and pursuing an acting career, Peete finds time to teach children and parents about fire safety.
   Peete, who has four children — a twin boy and girl who just turned 11, and  2- and 6-year-old boys — graduated from Sarah Lawrence.  She acted in Sesame Street as a child and says her daughter is a huge fan of Broadway musicals. She worked with Liberty Mutual to develop the tips below.
Holly's Holiday Fire Safety Tips
• Keep decorations, wreaths and trees at least three feet from heat sources such as candles, fireplaces and space heaters.
• Before putting them up, inspect holiday lights each year for frayed wires, bare spots, gaps in the insulation, broken or cracked plugs, and excessive kinking or wear.
• Keep candles out of reach from children and pets, and never leave a lit candle unattended for any period of time.  Trim the wicks to one-quarter of an inch to avoid high flames, and remember to leave a one-foot circle of safety around any burning candle in your home.
• At the end of the evening, walk around your home to ensure that all lights have been turned off, and any candles and the fireplace have been extinguished.
• Baking during the holidays can be a fun family activity.  Be sure, however, to maintain a three-foot safety zone away from the stove for kids and pets.
• Keep cooking areas clear of anything that can catch fire – like a potholder, rag, curtains or paper. Never leave food cooking on the stove or in the oven unattended.
• Keep a fire extinguisher handy and easily accessible in the event of a fire. If you haven't used yours in a while, revisit the instructions before the holidays get into full swing.
• Check your smoke alarms before your holiday guests arrive. Replace smoke alarms that are 10 years old or more.
• Map out an escape plan, share it with visiting relatives, and practice it – even in the snow and especially at night. Also remind your guests about your safe family meeting place outside and away from the home if a fire does occur.
• If the power goes out, consider using flashlights instead of candles.
 For more information, visit www.befiresmart.com.