Lynda Fassa, who was a model during her early adult years, is serving as a model for sustainable living.
The founder of Green Babies, an organic cotton clothing company, Fassa is a living embodiment of the sustainability movement. The mother of three girls, 6, 9 and 12, Fassa lives in Tarrytown. The company's new headquarters are in Irvington.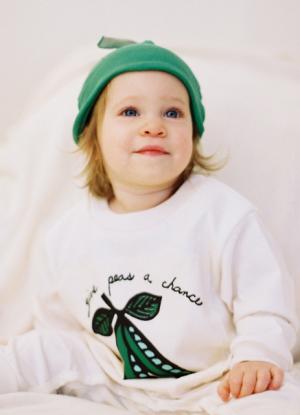 Green Babies started in the Fassas' East Village apartment; Lynda turned to organic cotton when her older daughter, Layla, who had allergies, reacted badly to conventional cotton. But as a model, Fassa was concerned with looks as well as pesticide residue, so she has focused on producing fashionable clothes as a result. Fassa's husband, Hossein, quit his job as director of the Stella Adler Studio of Acting almost 10 years ago, and now co-runs the business.
Rompers with a large bunch of carrots silk-screened on the chest or bibs with a juicy tomato are just the tip of the Green Babies aesthetic. The 'wear your veggies' line also includes a "give peas a chance" romper. But there are also floral dresses, striped cardigans, T-shirts, hats. Fassa is adamant, though, that clothing not be the focus when one looks at a child. As she says on her website: "Our aim is for people to say 'What an adorable child!', not 'What a cute outfit.'"
Fassa feels it is her responsibility as a parent to remind her children of their responsibility to the earth. She admits that, "My kids think my husband and I are weird" because of their different values, but she is proud that all her daughters have chosen to be vegetarians.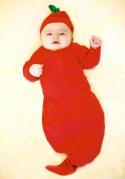 Makers of organic cotton goods face ignorance; people wonder why they need to buy organic cotton when they are not eating the product, but Fassa points out that "when something is sprayed all over, it lands somewhere." She admits that part of her reason for starting Green Babies is selfish. "I want a better world for my kids," but in the same breath she says we must consider 'the poorest of the poor' — those who pick cotton in fields sprayed with pesticides.
Fassa had been purposely checking the growth of the company, wanting to have quality time with her children, but now that they are all in school, she has been willing to grow. A recent relationship with Whole Foods Market, where her clothing is featured in half of the stores, has given her line far greater exposure — a far cry from the days in Manhattan, where Layla wore Green Babies clothes to the playground and attracted attention. But Green Babies will not stop there. Fassa envisions a 'multiplatform approach' where she can offer advice on breastfeeding, attachment parenting and infant massage, which all fit into her 'natural is better' aesthetic.
Green Babies also has an offshoot, Good Karma organics. Fassa has partnered with a friend, Kathy Semke, and promises 'figure flattering but not skintight' clothing that is 'sumptuous and sexy'. Good Karma organics is also carried at select Whole Foods.
For more info: www.greenbabies.com.