During National School Bus Safety Week 2010, First Student and the National Association for Pupil Transportation remind students to "Cross in View - It's the Right Thing to Do."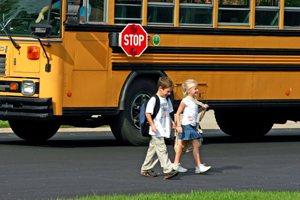 In honor of School Bus Safety Week 2010 (October 18-22), First Student, the nation's leader in student transportation, joins the National Association for Pupil Transportation (NAPT) to remind both students and motorists to eliminate distractions, be alert around school buses, and always remain in view of the school bus driver. According to the National Highway Traffic Safety Administration, school buses are 13 times safer than passenger cars and nearly 10 times safer than walking or biking to school. Unfortunately, cell phones, texting devices, and mp3 players can distract students, presenting a risk as they walk to and board the school bus.
During School Bus Safety Week 2010, NAPT encourages students to "Cross in View, It's the Right Thing to Do." It is crucial that all students remain aware and in each bus driver's line of sight when entering or exiting the bus. To do this, students should follow these tips:
Stay 10 giant steps away from the outside of the bus.
Wait for the bus to stop completely before getting on or off.
Do NOT [pick up any items they may have dropped near the bus. The driver may not see you. Instead, ask the driver for help.
Wait until the driver signals it's OK to cross the street in front of the bus.
Stay away from the bus wheels at all times - especially the back wheels where it's hard for the driver to see.
With the increase in mobile technology, students and motorists can easily become distracted. The few seconds it takes to talk on a cell phone, text or change songs can take a student's focus off of walking safely to the bus stop or cause a motorist to not see a bus' important safety features like stop arms and warning lights.
It is important for motorists to remember that whenever a school bus stop arm is activated and red lights are flashing, they are required to stop to allow students to enter or exit the bus.
"Everyone in the community plays a crucial role in ensuring students travel to and from school safely each day," said Gary Catapano, senior vice president of safety for FirstGroup America. "Our drivers take tremendous care when transporting students, but students and motorists must also be aware of their surroundings to ensure school transportation is as safe as possible."
For additional safety tips and information, visit www.firststudentinc.com.