Related: food, birthday, party, kids, children, child, parents, tips, advice, how to, caterer, allergies, picky eater, lactose intolerance, experts, birthday party venues,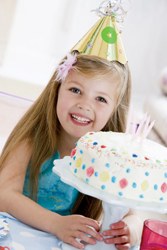 Food at parties seems to be an increasingly challenging issue. Some parents have gone organic, while more kids are diagnosed with allergies and lactose intolerances, and then there is the old-fashioned picky eater. Click on a link below to see what advice the experts in your area had for parents about serving the right food at your child's birthday party:
---
Get Your FREE Indoor Activity eGuide!
---
More ASK THE EXPERTS Articles
Ask the Expert: Advice for Coaching Your Child's Team
Ask the Expert: What do I say when my child asks, 'When will I need to know this?'
'The Best Advice I Ever Got': How to Cope with a Special Needs Diagnosis
Ask the Expert: What Safety Hazards Should I Keep in Mind When Buying Toys?
Ask the Expert: How Do I Explain to My Child That Teachers Are Sometimes Wrong?

Be a good fellow parent and share this with a friend who would be interested
Local ASK THE EXPERTS Sponsors
See Our ASK THE EXPERTS Directory