This smoothie gets its green hue from a healthy dose of kale, but kids will love the sweet zing provided by the addition of vanilla yogurt and banana. It's a fun and tasty treat that's easy enough for kids to make themselves. Plus, it packs a punch of vitamin C, calcium, and other nutrients that are good for growing bodies. Its leprechaun-green color and the fact that kale is a form of cabbage also make it the perfect kid-friendly drink for St. Patrick's Day or other Irish celebrations.
Shamrock Smoothie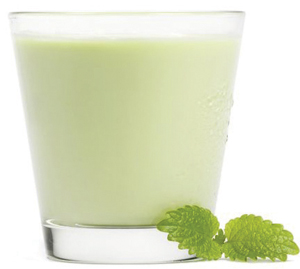 Yield: 1 serving
Ingredients
½ cup kale, chopped
4 oz. skim or lowfat milk
4 oz. plain or vanilla yogurt
½ banana, frozen
1 tbsp. honey (optional)
Preparation
1. Wash the kale leaves and dry. Remove stem and center rib and discard. Chop the kale and then measure.
2. Place the chopped kale and the rest of the ingredients in a blender and blend well until smooth.
3. Enjoy!
Lisa Suriano, M.S., is the founder and creator of the Veggiecation Program, a curriculum-based nutrition education program that introduces young children to the delicious and nutritious world of vegetables through school programs in 24 states, including more than 100 public schools throughout New York City. She also serves as a board member for the New York Coalition for Healthy School Food, which works to bring plant-based foods and nutrition education into our schools.