Brothers and sisters of kids with special needs have their own set of needs - an important fact for parents to address in order to raise a healthy family. Here, a Long Island family tells their story, and experts in the field share their insights and advice.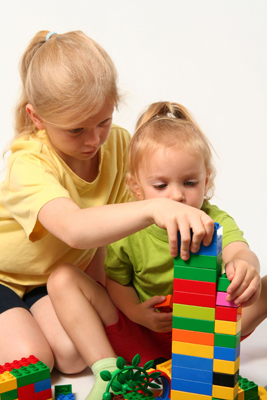 Gabriella Petrozzino's siblings have never known a time when their sister did not need additional attention. Born with Angelman Syndrome, a neurogenetic disorder characterized by intellectual and developmental delays, sleep disturbance, seizures, and jerky movements like hand-flapping, Gabriella is the oldest of three girls living in Islip Terrace, Long Island. Children with Angelman Syndrome also laugh and smile frequently and have an unusually happy demeanor.
Since her other kids, 13-year-old Julia and 10-year-old Samantha, were born, mom Roseanne, 43, told them that Gabriella has special needs, and that she is a gift from God. Although some older kids have a hard time when a special needs sibling is born, the younger Petrozzino girls have never had difficulty adapting to Gabby's schedule of doctors' appointments and meetings with different therapists.
"She is the oldest, so they have never known anything different," Petrozzino says. "They are sometimes upset by what others say about Gabby, though. Like when people make fun of her because she can't talk or walk. They also get upset when people tease about her hand-flapping or wearing diapers."
According to psychologists, the reaction of Gabriella's sisters is not uncommon. Siblings of children with special needs can be incredibly overprotective of their special-needs sibling. Those who adapt well to the situation are often more patient, accepting, compassionate, and helpful than their peers. They are also more likely to be supportive, empathetic, dependable, and loyal.
Still, there are struggles for children who are siblings of those with special needs.
"Support is important for each and every family member," says Bonnie Waring, LMSW, the community and resource coordinator at Rebecca School, a therapeutic day school promoting the education and development of children with neurodevelopmental disorders including PDD and autism.
Waring suggest that parents support their healthy children by allowing them to ask any and all questions they have about their siblings' condition. Parents should also explain the special-needs child's condition honestly - and in a way that is easy to understand. This is especially critical when the special-needs child has a condition that can be confusing. In Gabby's case, her seizures were very hard for her parents to adjust to, but they eventually learned to deal with it, which makes it possible for Julia and Samantha to understand better.
Children who understand their sibling's condition are also more likely to put into perspective her need for extra attention - whether that includes medical appointments or meetings with speech, language, and behavioral therapists.
"Siblings of children with special needs are more likely to be supportive, empathetic, dependable, and loyal."
It's not uncommon for healthy siblings to feel ignored by their parents, says Irene Belaga, Ph.D., a New York City psychologist who has worked with children with special needs and their families since 1999. "Siblings may also feel insecure and guilty about their feelings - anger, jealousy, even hatred - towards their sibling," indicates Belaga. "These emotions can be dealt with by not treating them as wrong, but rather by responding to them. No feeling is wrong, but they need to be discussed and understood."
Children should be allowed to share their feelings about having a sibling with special needs with their parents or other close adults to maximize the likelihood that they will not let negative emotions fester, or be overwhelmed by insecurities. At Rebecca School, where Waring works, siblings of children who are enrolled at the school can attend sibling support groups. Belaga encourages this upfront communication as well.
Says Belaga: "Ultimately, what's important is to develop an environment at school and in the home which promotes a clear understanding of the disability, distinctions between the needs and desires of the siblings, and an open forum in which to explore insecurities and difficulties as they arise." This helps children understand the conflicting feelings they may experience throughout their lives. At times, they may feel alternately worried about their sibling; jealous of the attention their sibling receives; scared they will lose their sibling; resentful of having to explain, support, or take care of their sibling; pressured to be or do what their sibling cannot; and guilty for some of these negative feelings or for not having the same problems.
Belaga stresses that parents should organize creative tasks for children and their special needs siblings to enjoy together to strengthen their bond and promote empathy. "Samantha and Julia both just love Gabby," Petrozzino says. "They really have become so much more caring for others."
It is also worthwhile for parents to spend one-on-one time with each child because often, the healthy one struggles to develop an identity separate from her sibling. By spending time alone with each child, the parents can help all of the children develop their own opinions, likes and dislikes.