Juggling summer camp schedules for several kids can be tough, but if you plan ahead, it is possible to help each child enjoy camp and without having a crazy schedule.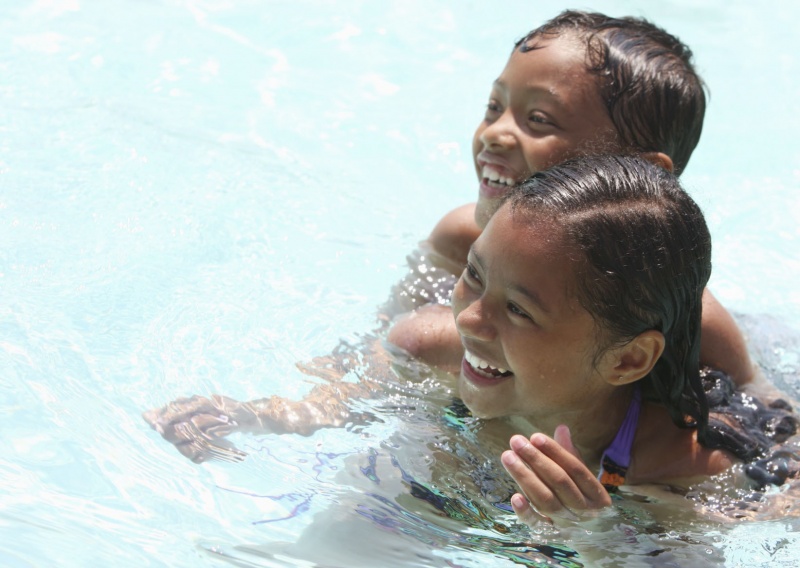 Whether you've got two kids or six, planning summer camp programs for siblings is a challenge. Between balancing schedules, wants, and needs it can be pretty tempting to play "pin the tail on the camp guide" (but that probably won't yield the desired results). You want each of your children to have a great experience at camp, but how do you get from A to B without driving off the rails entirely?
"A lot of what we do during this time of year is helping parents figure out these kinds of things," says Andrew Copper, associate executive director of Usdan Center for the Creative & Performance Arts. "The more research you do during this time of the year, the better off you are as a parent and the more success you'll have during the summer."
To Each His Own
For many families, the choice of whether to send siblings to the same camp comes down to convenience. It's a lot easier to drop off the entire crew at one location instead of spending hours running back and forth across town. The problem with shipping every kid off to the same camp merely for the sake of convenience is that it's quite possible that kids will miss out on a summer camp experience that caters to them as an individual.
"Forcing a square peg into a round hole can be unfortunate, because one of your kids may end up not having a great experience if the program isn't right," Copper says. "I think the toughest thing for parents to figure out for their kids is what type of a camp has diverse enough programs that it can accommodate and help all of the kids have a good experience over the course of the summer."
Situated on a 200-acre wooded campus in Huntington, Long Island with offices in Manhattan, Usdan serves families from all over the New York metro area. The camp offers a wide breadth of day camp programs for kids ages 6 to 18 interested in everything from performance (theater, dance, and a variety of musical programs) to visual arts (painting, video game design, and illustration) to organic gardening, creative writing, and even chess. Each program has options for several age groups, so campers are surrounded by peers of similar age as they participate in their chosen activities.
"If you can find a program that has the things that your family thinks are important and has programs that work for both of your children, in the same place, you get the best of both worlds," Copper says. "You get the convenience and you get the unique experience for both of your kids."
If your children's interests are wildly different, it may be harder to find that one magical camp. Which means you'll have a harder time getting everyone where they need to be. Many camps provide door-to-door transportation. Others, like Usdan, require that kids be dropped off and picked up at central points. Copper says it's not uncommon for parents to request help with transportation issues, and there's usually a way to make things work. "We try to accommodate that as best we can because we know that it's a difficult thing to have two children who are going to different programs."
Joined at the Hip
We hear a lot about parents asking camps to proactively separate siblings who don't get along, but what about those who are chummy? With twins or siblings who are otherwise close in age, the inclination may be to request that they be in the same group at camp—they might even be in favor of it. While there's nothing wrong with a little (or a lot of) brotherly love, according to Jason Turnier, managing director and COO of Camps 'R' Us, a chain of Long Island-based day camps, a little time apart from each other serves many summer campers well.
"We find that separating siblings is important because you want them to have their own experience at camp," Turnier says, explaining that one of the greatest benefits kids gain from attending camp is the opportunity to gain independence. "We want to help kids understand that they are unique in every way, and that they can do their own thing and don't have to have to be together all the time."
Camps 'R' Us has programming for kids age 3 up to ninth grade and separates campers into several groups within its age divisions. Parents can request to have their children of similar age together or to have them in separate groups. Being in the same group offers familiarity and comfort, but the freedom to exercise independence and experiment with their identity helps kids to feel more confident, better equips them to forge friendships, and prepares them for real world responsibilities. With a built-in best friend at your children's side at all times, it's easier to shy away from the unknown.
Just because they're in different groups doesn't mean siblings can't enjoy camp together, though. Many camps allow campers to mingle during lunch or, like Camps 'R' Us, during an open period. And, interestingly, having siblings in separate groups can lead to more shared experiences and bonding outside of camp. "When they go home at the end of the day they can talk about camp together, share their experience, and have a unique perspective," Turnier says.
This Little Sibling Stayed Home
A summertime extension of Manhattan-based 92Y, Camp Yomi and Camp Yomi Senior take place on a 50-acre campground in Rockland County. Yomi offers day camp activities for kids entering kindergarten through fourth grade while Yomi Senior serves children entering fifth and sixth grades. Older campers can also enjoy a five-day sleepaway experience at the end of the summer. (The programs have pickup locations throughout Manhattan as well as in Riverdale and Rockland County.)
Sending older siblings off to camp can be especially challenging for tots who are too young to attend their own summer programs. Lauren Wexler, director of Camp Yomi and Camp Yomi Senior, says her heart aches for toddlers who can't accompany their big brother or sister to camp. "When parents are dropping off older kids," Wexler says, "the younger siblings just don't understand why they are being left out."
If you've got little ones who are too young to attend camp with their older siblings, there are ways to help them feel included. Many camps—both sleep-away and day camps—have family visit days or other opportunities where family members can come to camp and get a taste of their camper's daily schedule. Yomi offers parent visiting days, which offer the family the chance to meet their children's camp friends and counselor, as well as try out activities, during which younger siblings may participate in age-appropriate crafts and games. Wexler says these activities are a win-win. "Not only do younger kids get the chance to experience what their older siblings do each day at camp," she says, "but they get really excited for their chance to attend when they're old enough."
Wexler also encourages parents to make time to have campers share their daily experiences with the family. "Whether it's just talking about it at dinner, or teaching the family something they learned that day, having campers share really helps little ones feel included, and makes things more positive for them."
A Group Decision
Navigating the tangled web that is planning camp can be a daunting task, especially when you've got to do it for several campers. But remember that you're not alone. From getting kids to several different camps, to deciding whether to split up campers into different groups, experts agree that your ultimate weapons are preparedness and open lines of communication—with your kids and with the camp.
Remember that one of your best resources for choosing summer camp programs is your kids themselves. Have them sift through our camp guide and highlight a few programs that are interesting to them.
"Open conversations can go a long way," Wexler says. "Parents know their kids the best and are in a unique position to figure out what each child wants beforehand and communicate that to the camp."
Looking for more information on planning camp? Check out these other great articles from NYMetroParents:
Touring Camps This Summer Can Help You Pick Camp For Your Kid Next Year
Solving The Case Of What's Wrong At Camp
Month-By-Month Timeline To Get Ready For Summer Camp