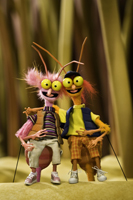 During the cold winter months, kids will have plenty to do — and then sing about — when they stay indoors. PBS debuts a new children's musical series, "Lomax: The Hound of Music," designed to introduce kids ages 3-7 to traditional American roots music and folksongs.
   The show features a good-natured dog, Lomax, who's so melody-obsessed he can hear songs from faraway distances.   Lomax and his friends, Delta, the blues-singing cat, and Amy, the human companion/singer, live in a caboose and ride the "Melody Hound Express" train across America, tracing the origins of some familiar and not-so-familiar historic songs. There are stops in Louisiana, Pennsylvania, San Francisco, Arkansas, Buffalo, "the West," and "the seashore." Along the journey, they meet musical celebrities and characters who teach viewers songs like "Michael Row the Boat Ashore," "Ain't No Bugs," "All the Pretty Horses," "Mary Mack," "Turkey in the Straw," "Buffalo Gals," and more.
   Of course, things go wrong throughout the ride. The Gooney Bird demands an impromptu performance of the "Mother Gooney Bird Song;" Lomax comes down with the "wrong song flu" and somehow the characters get stuck singing "John Jacob Jingleheimer Schmidt," a song with no ending. But with characters like the train conductor Fred, who has a talent for creating "mouth sounds" like the train's whistle, and the adventurous fleas Louise and Clark, who have hitch-hiked a ride on top of Lomax, kids won't cease to be entertained.
   "Lomax" is based on a curriculum and research developed by John Feierabend, a musical educator at the University of Hartford who found that younger children learn music, remember melodies, and sustain rhythm in much the same way they learn a foreign language — faster than older kids and adults. Produced by Sirius Thinking, the award-winning team behind the popular series, "Between The Lions," and co-created by Christopher Cerf (longtime contributor to Sesame Street), the show is presented by Connecticut Public Television, who played a role in bringing programs like "Barney and Friends" to public television.
   The 13-part ongoing series, which began airing December 20, is televised on PBS Channel 21, Saturdays at 8am.