If, like Toby Tyler, you've dreamed of joining the circus, the Trapeze School New York is for you — and your family. Kids as young as 6 are allowed to take a class, but all ages are taught together.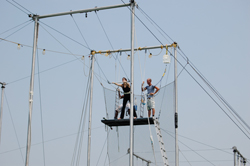 Each two-hour class is limited to 10 students, so there is plenty of personalized attention.  First, attached by a safety belt, you learn how to grip the arms of the 'catcher', while another instructor is up on the trapeze, effortlessly exciting everyone.  The school is outside, so be sure to bring plenty of water, a hat, sunscreen and most importantly, a towel to wipe off excess sunscreen on your hands and wrists. Although you chalk up your hands and forearms before grabbing the pole or doing a 'catch', it's better not to have a greasy underpinning.
   You also want clothes that work well for flying — no dresses or skirts, no excessively loose clothes, nothing that will be too revealing when you're upside-down.  You have to take off all jewelry, tie your hair back, and either remove glasses or use a sport band to keep them in place.  You can go barefoot or in socks, or wear sneakers.
   The first obstacle is climbing the ladder, 23 feet up.  It's a bit disconcerting to see the West Side Highway so close.  Then an instructor clips you into a harness and gives you the bar, while an instructor on the ground gives the commands: "Knees up! Hands off!"  After you flop into the net, you have to roll off headfirst.
   After everyone has a couple of turns, another instructor — a 'catcher' — joins the scene.  His muscles are a small comfort, because he's the one responsible for catching you as you transfer from one trapeze bar to another.  But dropping off the bar and falling into the net isn't painful.
   For those reluctant to climb, there is a low bar where you can practice hanging upside-down (with a thick safety net) and relive those playground days.  Then it's up the ladder, where you experience weightlessness and a giddy delight.   Superman has nothing on you.  You're flying!
   The Trapeze School, which recently re-located to Pier 40 (West Side Highway at Houston Street), is in danger of losing its home again due to competing development plans.  The Pier also houses an indoor and outdoor soccer field and a large parking lot.  Development plans include recreation space, but it's always subject to change.  Soar while you can.
Info:
Where:  Hudson River Park at Pier 40
When: Daily, 8:15am-10:15pm
How much:  Monday-Friday before noon, $47; after noon, $57. Weekends, $75; in September, $65.  One-time registration fee of $22 for first-timers.  There are also classes in silks, where you tumble and climb using very strong fabric.
For more info: www.trapezeschool.com; (917) 797-1872