Upper East Side mom Crystal McCrary Anthony has had not one, but two successful careers.  First, she was an entertainment lawyer.  Then she herself became the entertainer, beginning a writing career that has catapulted her to the bestseller list, with the novels Homecourt Advantage and Gotham Diaries.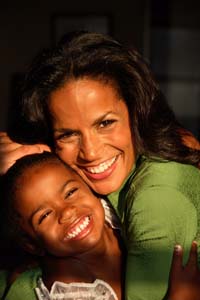 Crystal McCrary Anthony with daughter, Ella, 4


   With two young children, Cole, 6 and Ella, 4, McCrary Anthony is particularly attuned to the importance of literacy.  She is on the board of Jumpstart, a national organization dedicated to increasing early childhood literacy, particularly in low-income neighborhoods.  McCrary Anthony served as the co-chair of Jumpstart's recent gala, 'Scribbles to Novels', which raised $575,000.  This New York City initiative has over a dozen Jumpstart pre-school locations in Brooklyn, Queens and Manhattan.

   Jumpstart trains college students as literacy tutors in Head Start and other early childhood programs around the country.  Its goal is that every child enters school ready to learn; college students work year-long with children, one-on-one.  Jumpstart also has a campaign, Read for the Record, which encourages children and adults around the country to read the same book on the same day.  This year, the event will be held on September 20, with the book, The Story of Ferdinand.  In 2006, the first year Read for the Record was held, 150,000 people across the county read The Little Engine That Could.

   McCrary Anthony, who was also named one of Crain's 'Forty Under Forty' this year, says she loves spending time reading with her kids.  Divorced from basketball player Greg Anthony, she is also the executive producer of the film, Dirty Laundry.

   For information on Jumpstart and Read for the Record, go to www.jstart.org or www.readfortherecord.org.