Elvira Grau does not believe in the word "no." Six years ago, when she was determined to create a one-of-a-kind, members-only entertainment center for families, experts in the field told her it couldn't be done. But guess what? This mom of four from Crestkill, NJ, proved all the naysayers wrong.

"I was completely bored with the run-of-the-mill, cookie-cutter entertainment centers and told my husband I was going to create my own vision of what I thought should be a safe, clean, funky, out-of-this-world place," says Grau, whose children are ages 7, 15 (twins) and 18. The result, Space Odyssey USA, is, she says, "a cross between a country club and Dave & Buster's... It's like Soho House for kids.
"A lot of people thought I was crazy for even thinking I could do this but I have zero regrets and I'm very proud of it and so are my children," Grau continues. "They saw how their mom took renderings to planning boards and talked about it for many years and made it happen."

Grau, who previously ran a successful public relations and marketing firm, and her husband, Jim, who, prior to launching this venture was a television industry executive, used their entertainment and marketing experience to bring their vision to life. "The bottom line," says Grau, "is it's two parents, a mom and a dad, who decided to leave corporate America and do something completely out of the box."

The couple managed to transform a dingy warehouse in Englewood, NJ, into a $3 million, 26,000-square foot entertainment facility. Even before Space Odyssey opened its doors, Grau says they were booking Bar and Bat Mitzvahs at a feverish pace. "I knew how to spin a good idea into gold," she says. "Having experience working in corporate America and being a mom was a winning combination." Space Odyssey is currently booking celebrations for 2010-2011. As for birthdays, they fill up three months in advance.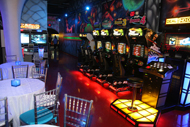 The major difference between Space Odyssey and most family entertainment centers is that access to Space Odyssey is limited to members only. "I wanted to create an exclusivity and limit the numbers because I didn't want it to get overcrowded," Grau says.

With a $250 annual fee, Grau says she's able to keep families safe while they're enjoying the variety of spaces, games and activities offered. "With a membership only facility, we can have luscious VIP areas. There are birthday party rooms that look like Miami lounges. We have white leather couches and zebra ottomans and chandeliers hanging from the ceiling. It's not your typical Chuck E Cheese environment."
The venue, which Grau says hosts 16 or 17 birthday parties per weekend including 3 or 4 Bar and Bat Mitzvahs, offers everything from laser tag to paintless paint ball, a basketball court that doubles as a nightclub, glow-in-the-dark bowling, projection screens, and a three-story indoor playground with an Alien ride and large arcade.

At 38, Grau says she is living her dream. "I drop off the kids at school every day and head to my office at Space Odyssey. Instead of the daily grind that most of the workforce deals with, my job consists of helping clients celebrate these memorable events."

For moms contemplating a new career path, Grau offers the following advice. "We all have passions and some of us might be a little scared, but don't be afraid. Without taking a risk, there's no glory. You'll never reap the reward if you don't take a chance."
For more information, visit www.spaceodysseyusa.com or call 877-772-2340.