SPIDER COSTUME A GREAT FIT FOR BABY THIS HALLOWEEN
Related:
baby
,
Halloween
,
costume
,
spider
,
cute
,
arachnid
,
creepy
,
crawl
,
toddler
,
bug
,
Chasing Fireflies
,
Creepy, crawly spiders aren't so creepy after all when it's your pudgy little bug crawling across the room. This baby spider costume from Chasing Fireflies will get plenty of smiles this Halloween.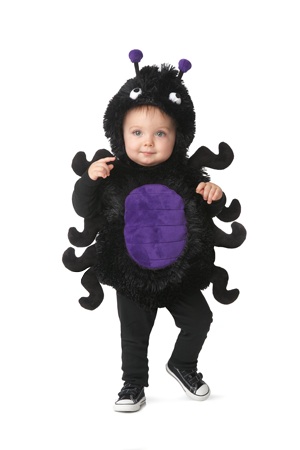 This baby spider costume's super-plush black bodysuit has a padded belly, attached legs, and the costume comes with an antennae hood. Add a tee and leggings to the costume and your little arachnid is ready to roll. Costume is available in sizes 6-12 months; 12-18 months; 2; and 4. ($39 from Chasing Fireflies)
---
Get Your FREE Indoor Activity eGuide!
---
More Baby Products Articles
Highlights Launches Infant Book Series and Bilingual Magazine
Children's Boutique Relocates, Offers Classes and Parties
Cookies The Kids Department Store Expands Jamaica Location
Ask the Expert: What Safety Hazards Should I Keep in Mind When Buying Toys?
New Boutique Offers Fancy Outfits for Kids