WIN: SPONGEBOB SQUAREPANTS CELEBRATES HALLOWEEN
Related:
spongebob squarepants dvd
,
halloween dvds
,
halloween spongebob episodes
,
Halloween is fun and spooky, but younger kids may not be ready for real scary movies. What better way to ease them into the Halloween spirit than watching SpongeBob SquarePants in a ghoul-filled film that is perfect for all ages and all fear-levels?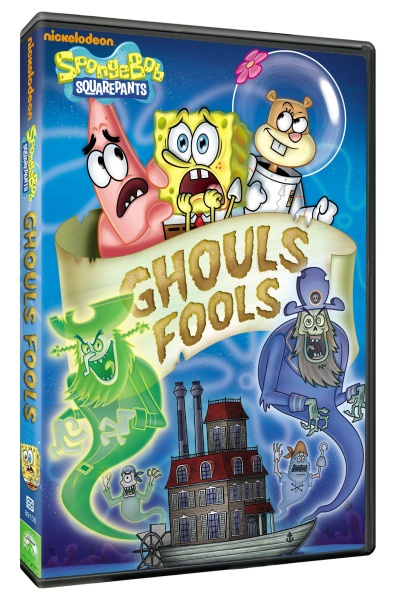 Watching spooky movies is the perfect way to get ready for Halloween, but it can be tough to include the whole family if younger kids aren't ready for real creepy flicks just yet. This Halloween, we've got you covered with SpongeBob SquarePants and his newest DVD, "Ghouls Fools," which was released on Aug. 28.
The DVD features the double-episode "Ghoul Fools," as well as "The Curse of Bikini Bottom," "Ghost Host," "Born Again Krabs," "Arrgh!", "Your Shoe's Untied," and "Money Talks." Geared toward kids but goofy enough for adults to enjoy, too, the DVD takes viewers on a treasure hunt, teaches them to tie nifty knots, and allows them to board the Flying Dutchman to haunt the Seven Seas, all with the fearless and often hapless leader SpongeBob SquarePants.
Though these episodes have all been aired before, there's a joy in seeing them together under one cohesive theme, and kids will get a thrill from being allowed to watch a "scary" DVD with the grown-ups (though parents of Nervous Nellies need not fear – the film is not actually too spooky, and the adventures are sillier than they are really scary).
If you want a special treat for the kids, plan a spooky family night to get in the Halloween spirit. Plan to watch the SpongeBob SquarePants "Ghouls Fools" DVD, make some Halloween recipes (practice for the real holiday), and start planning your costumes. Look out for more Treats of the Day as we get closer and closer to Halloween; we'll have recipes, costume ideas, and more tricks and treats coming your way to help you and your family prepare for everyone's favorite scary holiday. In the meantime, sit back and relax with SpongeBob SquarePants and this great new DVD.
GIVEAWAY
NYMetroParents is giving away eight Halloween entertainment bundles that include "SpongeBob SquarePants Ghouls Fools."
For more Halloween giveaways, activities, and articles, visit nymetroparents.com/halloween.
---
Get Your FREE Indoor Activity eGuide!
---
More PRODUCTS Articles
Holiday Fashions for Boys and Girls
Photographer Behind Humans of New York Releases Children's Book
New Book Encourages Kids to Give Up Halloween Candy
Runnin' Wild Kids Shoes Owner Opens Toy Store
Top 10 Audiobooks for Halloween Season