SPOOKY ICE CUBE MOLDS FOR HALLOWEEN
Related:
halloween
,
products
,
ice cube molds
,
ice cubes
,
skull and crossbones
,
teeth
,
halloween treats
,
halloween toys
,
Say goodbye to boring ice cubes and allow festive freezer ice cube molds from HomeWetBar to cool down your beverage and amp up the scare factor at any Halloween party this October.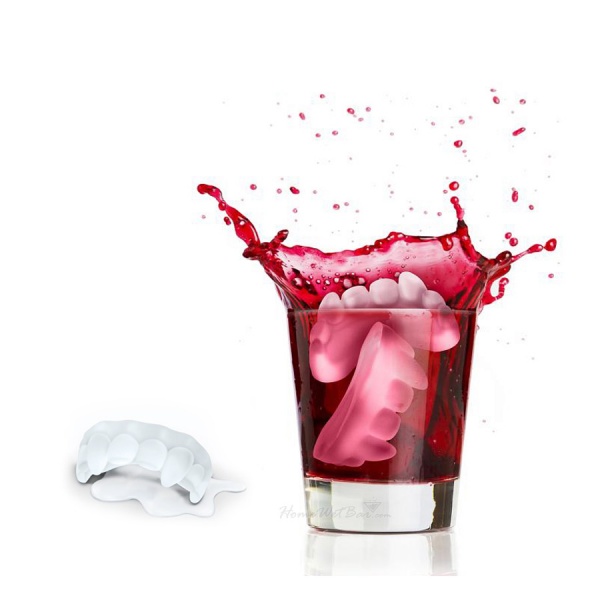 Put a chill in your bones and in into your party décor this Halloween with spooky ice cube molds in creepy shapes that will have guests giving your glass a second glance. HomeWetBar is offering the ultimate ghoulish ice cube designs, like a Skull and Crossbones ice mold, to an utterly eerie set of Transylvanian teeth in its Frightful Freeze Silicone Ice Tray (it makes up to four sets of fangs at once) to keep your beverage chattering with chill.
These seasonally appropriate ice designs are as easy to use as a normal ice tray, just by filling it up with water or your favorite fruit juice, popping it into the freezer and letting the magic form fun, molded shapes. Hint: cranberry juice makes the Frightful Freeze teeth tray look super scary!
The trays are practically indestructible, made out of food-grade silicone, making them ideal for kids to use without any hesitation or worry. Feeling adventurous with your freaky molds? Try filling them with Jello mix for a treat that's tasty and terrifying.
These ghoulish goodies are available for $6.49 each at HomeWetBar.com in addition to tons of Halloween-appropriate treats to amp up your spooktastic gathering.
Check out the rest of NYMetroParents Halloween site for tons of spooky ideas, products, and ghoul-worthy giveaways all month long!
---
Get Your FREE Indoor Activity eGuide!
---
More PRODUCTS Articles
Holiday Fashions for Boys and Girls
Photographer Behind Humans of New York Releases Children's Book
New Book Encourages Kids to Give Up Halloween Candy
Runnin' Wild Kids Shoes Owner Opens Toy Store
Top 10 Audiobooks for Halloween Season