Kids who are properly outfitted for the specific sport they're playing have an edge, says Westchester-based podiatrist Dr. Charles Morelli, president of the Tappan Zee Division of the New York State Podiatric Medical Association.  While many people think of older people when they hear the word "podiatrist," Dr. Morelli says 25-30 percent of his patients are children and teenagers. He helps with everything from flat feet to warts, ingrown toenails, heel pain and more.
   According to Dr. Morelli, picking the right shoe takes more than just heading to the athletics section of the shoe store.  "Buying a sport-specific shoe – a shoe designed for the exact sport your child will be participating in – not only improves your child's performance on the court or field, but also helps keeps him or her free from serious foot and ankle injuries," he says.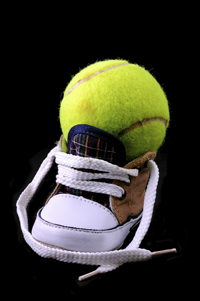 Dribbles and Dunks
   Many kids make basketball their first organized sport of choice, so it's important to give them a shoe that both helps them perfect their basketball handling skills and prevents injury. A child's basketball shoe should:
•    Have a thick, stiff sole that gives support while running and landing from jumps to the basket.
•    Incorporate high ankle construction that supports the ankle during quick changes in direction. A good basketball shoe should have the strongest support on either side of the ankle.
Making a 'Racket' on the Court
   Court shoes for tennis and racquetball may look like any other athletic sneaker, but it's what's on the inside that makes the difference on your child's feet. A child's court shoe should:
•    Support both sides of the foot, due to the quick lateral movements and weight shifts in court sports. A stable platform (bottom) with good traction is best.
•    Provide a flexible sole for fast changes of direction.
Sprinting Toward the Finish
   The running shoe is perhaps the most personal and intricate of all athletic shoes. Every runner, like every child, has different needs — and there are a multitude of choices out there. A child's running shoe should:
•    Provide maximum shock absorption to help runners avoid ailments such as shin splints and knee pain.
•    Control the way your child's heel strikes the ground, so the rest of the foot can fall correctly.
Don't Forget the Socks
   Without the right sock, even the best athletic shoe won't cut the mustard. If your child exhibits signs of hyperhydrosis (excess sweating) or bromhydrosis (foot odor), selection of the appropriate athletic sock may reduce the incidences of these conditions. The right athletic sock should:
•    Be made of a natural/synthetic blend, as this helps "wick" away moisture best.
•    Not contain any large seams that can cause blisters or irritation.
Survival of the Fittest
   But how do you make sure the sport-specific shoe you select fits properly? Here are some hints to keep in mind while shopping.
• A child's feet change as they age. It may be necessary to change shoe and sock sizes every few months as their feet grow.
• Shoes that don't fit properly can aggravate the feet.  Always measure a child's feet before buying shoes.
• Never hand down footwear.  Just because a shoe size fits one child comfortably doesn't mean they'll fit another the same way.  Not to mention, the practice of sharing shoes can spread fungi like athlete's foot and nail fungus.
• Watch for signs of irritation.  If your child always wants to remove one or both of her shoes, this may be an unspoken sign that the shoes don't fit properly.
• Examine the heels. When children slow in growing, they may wear through the heels of their shoes more quickerly than outgrowing the shoes themselves. Uneven heel wear can indicate a foot problem that should be checked by a podiatrist.
Did you know?
   A recent survey conducted by the American Podiatric Medical Association of a group of 620 parents with children under the age of 18 found that 35 percent of those surveyed would not be motivated to take their child to a medical professional if their child complained of foot or leg pain. Furthermore, only 49 percent of parents surveyed would take their child to a podiatrist's office for ingrown toenails, which, if left untreated, can lead to significant pain and a loss in normal activity.
   "If many of the adults I see on a daily basis had their feet properly cared for at an early age, they wouldn't be suffering through simple activities like walking a few blocks or playing an hour of tennis today," says Dr. Morelli.
   For more information or to find a podiatrist near you, visit
www.nyfootspecialists.com
.
GLORIA SMITH is a freelance writer in New Hampton, NY.