The phrase, "Necessity is the mother of invention" certainly holds true for one Rockland County mother. Aggrieved when her second child had skin problems as a baby, Mindy Cohen created a hypoallergenic spray to relieve his symptoms.
That was nearly five years ago. Today, Mindy and her husband, Ben, are the parents of four: Steven, who is 8; Jonathan, 5; Daniel, 3 1/2; and Miriam Michele, 6 months. Their company, Baby Spritz, now offers two baby sprays: The Baby Wipe Alternative and Diaper Rash Spray. The Cohens, who live in New Hempstead, run the company from their home.
Mindy and Ben tested their products extensively on their own children, and on those of friends and family, searching for the least irritating and most effective formulas. The anti-bacterial Baby Wipe Alternative is spritzed onto a baby's sensitive bottom and wiped away with a tissue. It can also be used to clean hands and faces when no water is available. The Diaper Rash Spray, which soothes with aloe vera, lanolin and vitamins A, D, and E, relieves symptoms gently and instantaneously, since you don't have to touch the baby's skin to apply it.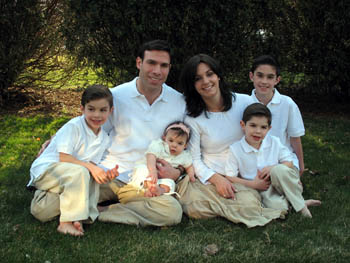 While the spray wipe as well as the company's name was Mindy's idea, the couple used Ben's business connections (he works for a private equity fund, but was in graduate school when they conceived the company) to find a lab to create the product. Mindy, who worked as a CPA before having children, handles the company's accounting. Baby Spritz is a true family business: Ben's brother, Michael, is the director of marketing, and Miriam Michele is still an avid customer.
Baby Spritz products are sold at small pharmacies and supermarkets, and online at www.babyspritz.com.
In the photo from left to right: Jonathan Miriam Michele Daniel Steven and of course, Ben and Mindy in the middle.