Build-A-Bear and St. Jude Children's Research Hospital teamed up with the New York Giants to host a benefit that really gave cause to celebrate.
The lower level of Build-A-Bear on Fifth Avenue was packed on December 13 as families, friends, and celebrities gathered for Cause for Celebration, a red carpet event hosted by New York Giants players Michael Clayton and Aaron Ross to benefit St. Jude Children's Research Hospital.
The event, created through the partnership between Build-A-Bear and St. Jude that began in March, celebrated the recovery milestones that three St. Jude's patients have reached—two are from Connecticut, the other is from Honduras.
Those three patients, Colin, Kyla, and Raul, spent one-on-one time with Clayton and other members of the Giants as they ate cupcakes, danced to a musical performance, hung out with Bearemy (Build-A-Bear's mascot), and of course, made bears. Many celebrities were also present, and they were able to make and donate a number of bears to St. Jude families who were at the event.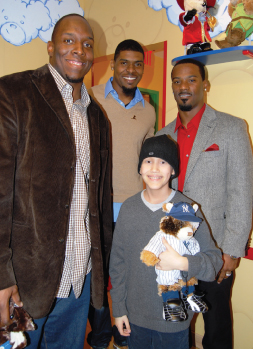 New York Giants Kevin Boothe, Ramses Barden, and Aaron Ross pose with Raul, a St. Jude patient celebrating his recovery milestone at Build-A-Bear. Courtesy Rodney Williams.
The children took their bear-making responsibilities seriously, deliberating over which clothing to pick and what style bear they would make. Kyla Coughlin, 7, from Waterbury, CT, had some trouble making her final decision. Blonde curls bouncing as she nodded, she confirmed she was very excited about making a bear. "I don't know if I picked the right one though...it's so hard to choose between all of them!"
Kyla was diagnosed with an ependymoma brain tumor at 22 months, and has had two brain surgeries. She just celebrated her five-year-clean brain scan on November 1, which happens to be her birthday. Kyla's mom, Courtney, watched as her daughter agonized over which clothes to use on her bear, played with accessories in the store, and chatted with Clayton and other adults and children. "We always say if Danny Thomas [founder of St. Jude] had a vision of the perfect patient, Kyla is it," she said.
St. Jude Children's Research Hospital treats children in all 50 states and in 80 countries, with no cost to the family, and spends $1.7 million a day doing so. The costs are primarily covered by public contributions.
For more information, go to www.stjude.org.
For more information about the Build-A-Bear and St. Jude Cause For Celebration partnership, visit www.buildabear.com.