St. Patrick's Day commemorates the death of Saint Patrick, a former slave who converted to Christianity and drove the snakes out of Ireland, who died on March 17, 461. The tradition came to the United States in 1737 with the first celebration in Boston. Today we celebrate the day by wearing green, having parades and eating Irish foods. Here are a few crafts and recipes to help you feel Irish....
Shamrock Greeting Card
What You Need:



Newspaper
Paintbrush
White construction paper
Green acrylic paint
Candy hearts (three are needed for each shamrock)
Markers
Craft glue
Green pipe cleaners
Scissors
What to Do: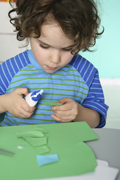 1. Cover your work area with newspaper. Paint one side of the candy hearts and the edges with the green paint. Allow to dry completely. (You can use either size candy hearts, though the larger ones may be easier for small hands to paint.)
2. Fold the construction paper into fourths to create the card. Unfold.
3. Write the text for the card with markers
4. Glue two or three sets of three green hearts together (unpainted side down) so the sides and points touch to form a shamrock shape on the white construction paper. Allow to dry completely.
5. With the pipe cleaner, create a stem and leaves for your shamrock, then glue onto the card. Allow to dry completely.
Handy Leprechauns
What You Need:
White construction paper
Black marker
Crayons or color pencils
Pencil
Scissors
What to Do:
1. Make a fist with your pinky and thumb sticking out (this forms the elf ears), then lightly trace around your hand with a pencil to create the head. Trace over the line with a black marker.
2. Draw a face on the palm area with the marker, then a hat onto the top of the head. Color using crayons or color pencils. (You can also draw and color a body if there's room on the paper.)
3. Cut it out and hang on the wall.
Shamrock Shakes
Ingredients:
2 cups milk
2 cups lime sherbet
2 bananas (peeled)
Directions:
Pour all of the ingredients into a blender and mix together. You can add a drop or two of food coloring to make it greener.
St. Paddy's Day Pie
Ingredients:
2 boxes pistachio pudding
Milk as directed on the box
Container of whipped cream
Pre-made graham cracker pie shell
Directions:
1. Make the pudding following the directions on the box. (If you don't like pistachio, you can make regular vanilla pudding and color it with a few drops of green food coloring.)
2. Add the container of whipped cream to the pudding.
3. Fill the pie shell with the pudding mixture and refrigerate until ready to eat. (You can use mini pie shells if you're working with a group so everyone can have her own pie.)