With the U.S. Open underway in New York, we spoke to two former tennis players who are now moms.  These two chic moms know how to stay in shape and look good while doing it! Here they share their advice.
Lindsay Davenport, mother of 1-year-old Jagger:
   Once you get the okay from your doctor, start back slowly. Get out and walk with baby in the stroller — and try some hills for an extra push.
   To get energy for my workouts, I napped whenever the baby napped.  You shouldn't feel ashamed to sleep during the day. Perhaps during their third nap of the day, you can fit in a little exercise at home.
   Aim for 30 minutes of physical activity a day, five days a week. Try to do something different every day, to change the routine and get your heart rate going. I enjoyed the elliptical machine, which doesn't put too much stress on the body and burns more calories than the stationary bike.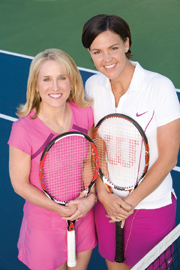 Tracy Austin, mother of three boys, Dylan, 12; Brandon, 10; and Sean, 7:
   Keeping up with my three sons is a great way to burn calories. Every day, I am in constant motion balancing my family's many sports and afterschool activities.  I make a point of getting out of the car while I wait for their activities to finish.
   My husband and I lead by example and keep ourselves involved in our son's activities. We are fortunate because we are able to spend a lot of time together. Some of the activities we enjoy as a family include skiing and riding bikes on the beach.
   Whether or not you work outside of the home, there is a constant juggling act that takes place to make sure that all areas of your life are in balance, including parenting, exercising, and finding time for your spouse.   
Tips for Balancing Beauty Regimens

Davenport:
   I've always been a believer in keeping it simple, with a gentle face wash, a good moisturizer and lots of sunscreen.
Don't be afraid to try something new. Ask your friends whose skin you admire what they do, research online, and talk to experts.  There are a lot of options out there.
   While I exercise and eat right, there have been changes in my face as a result of getting older and sun exposure that no amount of diet and exercise could fix. My skin lost its bounce, and wrinkles like "parentheses" lines formed along the sides of my nose and mouth, making me look much older than I felt. My dermatologist recommended Juvéderm hyaluronic acid dermal fillers. I love the results. I felt like I instantly looked a lot more refreshed, and my skin looked so much smoother. The treatment was quick with minimal downtime and the results last up to a year.
Austin:
   During my nearly two-decade career as a professional tennis player, the condition of my body was always a top priority.  Unfortunately I did not give skin care the same attention.  That is because sunscreen was not mainstream.  I don't remember anyone using it!  In fact, it was just the opposite – my girlfriends would lie in the sun for hours trying to get as tan as possible.  Although sunscreen is now part of my daily beauty routine, I admit that much of my early career was spent without the benefit of this important protection and now I'm paying for it.
   My skin care routine is pretty simple, but very disciplined.  I use sunscreen head to toe every day.  I also use a gentle daily wash, a good moisturizer and a few specialty creams, and I see a dermatologist regularly. 
   As a commentator for matches such as Wimbledon and the U.S. Open, I am particularly aware of how I appear on HD-TV.  I visit my dermatologist for "grand slam" tune-ups before big matches.  For a while I kept my treatments a secret between me and my closest friends, but I decided that it was finally time to let everyone know that we have options that our mothers didn't. People always come up to me now and say that I look great, but they can't tell exactly why. On HD-TV, it gives me a boost of confidence.  It is now possible to grow old gracefully with help of our physicians.  
Tips for New Moms
Davenport:
   Don't use the cell phone or Blackberry when you are playing with the baby. My husband and I agree that one-on-one time is very valuable and we should focus on him as much as possible during those moments. 
   I plan my schedule around Jagger's schedule as much as I can. I really enjoy putting him down for a nap, or feeding him his breakfast.  These are moments for just the two of us.
Tips for All Moms

Austin:
   Let your kids follow their passions. Everyone asks if my children are going to be tennis players. I give them every opportunity to try sports, be it soccer, tennis or baseball. I encourage and support them in whatever interests them.
   Stay organized!  With busy schedules for each of my three boys, organization is the name of the game.  We have a big family calendar, plus I keep myself organized with the help of a Blackberry.