Quite a few familiar storybook characters are appearing on stage across Long Island this August, including Pinkalicious, Angelina Ballerina, and Blues Clues. Read on for details on these musicals and more kids' shows appearing in theaters this month.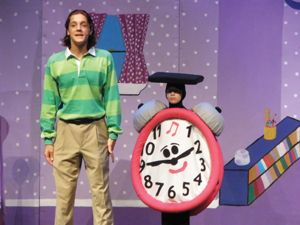 There are certain book characters that are forever linked to childhood memories, and many remain beloved through several generations. When these characters make it to the stage, children, parents, and even grandparents can enjoy seeing them together. There happen to be quite a few familiar storybooks headed for Long Island stages this month.
Long Island is close enough to Camelot to entice King Arthur's Krazy Kwest to come to Theatre Three. Expect a whole new twist to this Middle Ages musical. August 5 at 11am. $10. Theatre Three, 412 Main Street, Port Jefferson; 631-928-9100.
Two performances are coming this month to the Patchogue Theater for the Performing Arts. Catch Blue and her buddies as they move from the screen to the stage. Ovations Dance Repertory Company presents a musical version of the popular children's program in Blue's Clues - The Most Spectacular Place. August 12, 10:30am; August 13, 11am. Then, no good comes from eating too many pink cupcakes, as Pinkalicious soon learns in Pinkalicious -The Musical. August 14 at 12pm; August 16 at 10:30am. Both productions $12-$22. The Patchogue Theater for the Performing Arts, 71 East Main Street, Patchogue; 631-218-0315.
No need to fear this mouse, who dances into everyone's heart. In Angelina Ballerina the Musical, Angelina and the other dancers excitedly prepare for a famous visitor. August 28, 3pm and 6pm. $15-$25. Westhampton Beach Performing Arts Center, 76 Main Street, Westhampton Beach; 631-288-1500.
P.D. Eastman's favorite dogs head to the party in Go, Dogs, Go! Saturdays at 11am, Sundays at 10:30am; through August 28. $15. John W. Engeman Theater at Northport, 250 Main Street, Northport; 631-261-2900.
Also see: More great family events happening this August in Suffolk County, Long Island