For entrepreneur and multi-tasker extraordinaire Claudine Struck, who lives in Garrison, NY, with her husband, Bud, and their two young children, Estella, 5, and Tomas, 2, launching one venture after another is nothing new. So it is appropriate that she has recently established a local chapter of Ladies Who Launch, a company that provides online and hands-on resources, education, and support to help women start and expand their businesses and creative projects.

"I think a lot of women have really exciting, innovative ideas," says Struck, "but it is easy to be hindered by the obstacles of everyday life."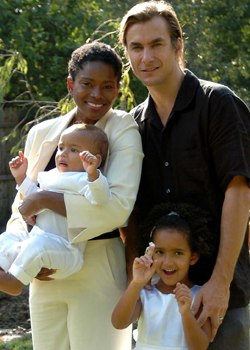 Which is where Ladies Who Launch comes in. In addition to its web-based tools, email newsletters and membership network, the organization holds local sessions called Incubators, where participants exchange products, services and ideas, and form strategic relationships. After attending an Incubator series last fall, Struck was so inspired that she trained to become an Incubator leader herself. As the leader of the Upper Westchester—White Plains & North Putnam Dutchess Ulster chapter, she now hosts workshops and events throughout the region, including venues in White Plains, Fishkill, New Paltz, Kingston, and Garrison. "The Incubator is a great way to revitalize your life and finally realize the potential you've been dreaming about for so long," she says.

Full of drive and persistence, Struck, 38, has been realizing her own potential for years. Born in Jamaica, Struck, who is 5'6", defied naysayers who insisted she was too short, and for 15 years worked as a model and an actress. In 1991, she earned her Bachelors degree from Northeastern University in international business and marketing, and five years later, her personal training certification from Marymount College in Manhattan. Struck then put her skills and talents to work in a variety of roles: in 1999, she created the Woman's Workshop as part of Mount Holyoke College's Mi Casa curriculum, and went on to become a yoga teacher and life coach.

Marriage and children didn't slow her down, Struck says; rather, they broadened her horizons. She expanded her yoga classes to include partner, pre- and post-natal, and mommy-and-me sessions. She helped Bud expand his photography business, and is teaching her children French. She began leading workshops on communication for couples, and in the summer of 2005, started Claudine's, an events hosting company that specializes in children's parties. As an offshoot of that business, she recently founded the non-profit Whimsical Seasons, to raise funds for underprivileged children from New York City to travel to Africa after taking part in an eight-month educational program. She is also considering a future party product line and eventual franchising.

Managing a marriage, a family and several home-based businesses has made Struck recognize the value of delegation. "I realize I can't do it all, so I ask for support," she says. Bud helps with household chores, and Estella and Tomas spend several hours a week with a babysitter, allowing Struck blocks of uninterrupted time. She moved her office from the kitchen to the basement to minimize distractions when she is working. On the flip side, when she comes upstairs to be with her family, she leaves her work behind.

Discussing her own choices as well as advising others about theirs, Struck says: "It's a matter of following your intuition. I've done what I loved at the time, and I have molded my interests to merge with my lifestyle. Your everyday experiences inspire ideas for improvement that you think could be important to other people, and usually you're right. The wonderful thing about deriving opportunity from experiences in your life is that it truly belongs to you, and you can develop it far beyond the starting point."

Ladies Who Launch Incubator workshops consist of four 2-hour sessions for $250; there are between 4 and 12 participants. For more information about Ladies Who Launch, upcoming Incubator workshops and planned local events, visit www.ladieswholaunch.com. To contact Claudine Struck, call (845) 424-3306; email cstruck@ladieswholaunch.com.