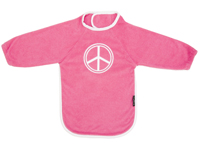 Full Coverage...and Comfort
As most moms and dads will tell you, many babies manage to get more food slopped across their clothes than actually in their bellies. What makes Baggino Learner's Bibs unique is that they feature long sleeves and an extra long front-just where babies tend to make the biggest mess. The Velcro closure and elasticized cuffs help secure the sleeves.
Best Feature: Babies stay comfy and moms don't have to worry about spills during mealtime.
Price: $15
Available at: www.Baggino.com exclusively
Chic Carryall
The greatest thing a new mom can have is a fashionable accessory that makes her life easier-after all, looking good while on the run can only improve a harried day. The Tiny Tillia Signature Diaper Bag captures the best of both worlds in one stylish bag. Created by Tiffany Lermen, London-based designer and daughter of Jackie Collins, it features an insulated bottle holder, foldable changing pad and trash bag with many pockets and an embroidered design.
Best Feature: This sleek bag comes with a matching wristlet for personal belongings.
Price: $58-$61
Available at: www.shoptillia.com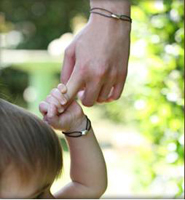 Common Bond
Preschoolers who miss mom during the day or toddlers of parents who travel might just feel a little better with the Family Ties bracelet wrapped around their wrists. This stunning piece of jewelry, designed by Bebe au Lait and Danish jewelry designer Julie Sandlau, symbolizes the bond between parent and child. One side contains a heart or star and the reverse side a white topaz stone.
Best Feature: This sterling silver pendant is adjustable so your child can wear it for years to come.
Price: $40 (child size), $45 (adult size), $75 (set of 2)
Available at:
Rockland: Cutie Beauty, Airmont
Westchester: Buy Buy Baby, Scarsdale
Brooklyn: Boing Boing and Bump, Brooklyn
Queens: Motherhood at Steinway Street, Astoria
Fairfield: Amy Coe, Westport and Giggle, Greenwich
Manhattan: Buy Buy Baby and Giggle
Nassau County, Long Island: Nordstrom Roosevelt Field, Garden City
Suffolk County, Long Island: Motherhood at South Shore Mall, Bay Shore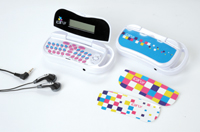 Total Texter
How many times has your child grabbed your cell and attempted to text? Let's face it, texting can be fun (even for adults), so naturally children want to get in on the action. There's no need to go out and purchase a real cell phone just yet though. The iCarly Text Messager for ages 8 and up, lets kids send and receive wireless text messages and also organizes phone numbers, emails, addresses, and memos.
Best Feature: Built-in FM radio allows kids to listen to music at the same time.
Price: $19.99
Available at: Best Buy