Find out why celebrities like Brad Pitt and Angelina Jolie, Katie Holmes, Gwen Stefani, and Nicole Richie love Little Giraffe blankets; plus, check out some other nifty products on our radar for kids and families.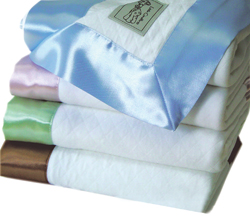 Convenience Meets Comfort
It's no wonder so many celebrities like Brad and Angelina, Katie Holmes, Gwen Stefani, and Nicole Richie, love the Little Giraffe line of baby blankets and pillows. The ultra soft materials are plush and cuddly, and just the type of soft fabric moms (and dads) want for their babies' tender skin. Little Giraffe 'Luxe Duo' Blanket (pictured) is trimmed in satin and makes the perfect elegant gift for a baby shower.
Best Feature: Despite the luxurious look, the towels are machine washable.
Price: $42
Available at: www.littlegiraffe.com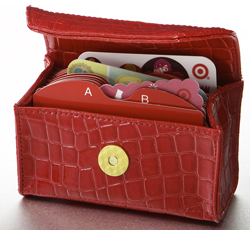 Perfect Organizer
Who among us hasn't fiddled with their wallet at a checkout counter searching for the right card? Well, there's no need to anymore with Card Cubby. This alphabetized mini card file holds up to 80 cards in order, which makes finding the right card easy. The file holds gift cards, ID cards, credit cards, and frequent shopper cards. Its unique design allows it to fit snugly into a small purse, diaper bag or car console. Available in Passion Pink, Really Red, Classic Black, Simply Silver, Chocolate Croc, and Caramel Leather.
Best Feature: It's perfect for moms who are juggling a stroller or baby carrier, bags, and a baby, yet also ideal for organized types who crave order.
Price: $19.99
Available at: www.CardCubby.com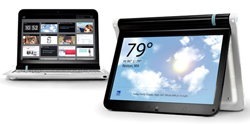 All-in-One Web Fun
For people who have wished their personal computers could be more like TVs, the litl webbook brings the best of TV viewing to the family room, and it comes directly from the web. This unique family computer has a 12" screen and a keyboard that flips around its patented hinge so the computer stands upright like an easel. It comes with a hinge-mounted scroll wheel for changing web "channels," an optional remote control, and can be placed anywhere including kitchen counters and bedrooms. It's ideal for passive or "lean back" web activity like enjoying photos, listening to music, or catching up on the news and weather. A new recipes tool provides users with access to 50,000 recipes.
Best Feature: Maintenance and virus free, this computer automatically installs updates while you sleep, for the life of the computer.
Price: $699; includes a free two-year unconditional "satisfaction guaranteed or your money refunded" warranty
Available at: www.litl.com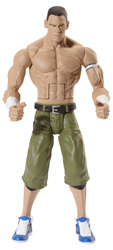 Wrestling Comes to Life
Wrestling mogul Vince McMahon really knows how to keep his wrestling empire sailing along even in these economic times. WWE (World Wrestling Entertainment) recently joined forces with Mattel to produce top-notch quality wrestling action figures that are extremely detailed, right down to the tattoos and rippled muscles on popular wrestling stars like everyone's favorite good guy, John Cena (pictured). In recent years, WWE has done a stellar job of making the sports entertainment a family affair, and going out of its way to appeal to girls and even moms, evidenced by the increasing number of girls and mothers who now attend the events.
Best Feature: The 2010 line consists of 72 different figures, with a series of 6 released every month, and the price is affordable.
Price: $9.99
Available at: Toys 'R' Us stores and www.toysrus.com