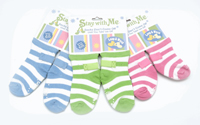 Socks with Staying Power
There's help for moms and dads with a habit of losing socks. Who among us hasn't come back from a walk in the park or a car ride and noticed a sock missing from the baby's foot? When you combine that with the number of single socks that get lost during laundry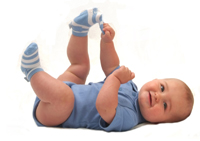 loads, you could end up buying new socks on an ongoing basis. Stay With Me Socks come with Velcro straps that keep the socks snug on baby's feet, and that can be adjusted to expand as your child's foot grows. This also helps prevent bored toddlers from peeling their socks off and tossing them.
Best Feature: The unique design also allows the socks to be looped together to prevent them from disappearing in the laundry.
Price: $5.95
Available at: Target stores and www.staywithmesocks.com
Perfect Harmony
Think the '70s-"I'd like to teach the world to sing..." You'll most likely recall these famous lines from the Coca Cola commercial and a hit single by The Hillside Singers (four of whom are in the children's group Treehouse 10). It only makes sense that a band known for an infectious song would create a children's album just as appealing. Bug in a Puddle is a compilation of melodic tunes and fun-filled lyrics. Young listeners will be enticed by its short songs with just enough of a storyline to engage children along with catchy melodies to keep the songs imprinted in their minds. Favorites include the calming introductory song, There's a Beat, an amusing rendition of a feline dilemma in The Man with 29 Cats, and the reflective Through the Puffy Clouds. A true family affair, this CD was recorded by several original members of the Hillside Singers and their children, including NYMetroParents' own Deputy Editor, Celene McDermott.
Best Feature: At a little over a half hour in length, its soothing music makes the CD perfect for bathtime and bedtime routines.
Price: $14.99
Available at: Amazon.com, CDBaby.com, and on iTunes; for more information, visit www.treehouse10.com.
It's FUNdamental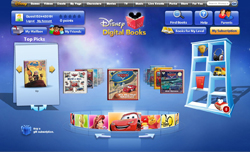 Chilly February temperatures are just made for watching movies at home, but now kids can try reading the book instead with Disney Digital Books. Over 500 books equipped with flipbook technology are available right at your home computer (PC or Mac) with just the click of a mouse. Children will find popular Disney favorites such as Mickey Mouse, Toy Story, Disney Princess, Cars, Hannah Montana, and other classic Disney stories. Subscription includes look and listen titles that allow children to hear the story read aloud and a story-builder feature so kids can create and share their own memorable stories. Reading levels span beginners to chapter book readers.
Best Feature: An age appropriate dictionary that lets children click on any word to hear it read aloud, select unfamiliar words, and read simple definitions.
Price: Annual subscription of $79.95, or a monthly subscription of $8.95, which covers up to three children in the same household.
Available at: www.disneydigitalbooks.com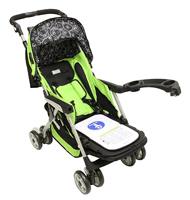 Change with Ease
It's the height of flu season and the absolute last place you would want to take your baby is a public restroom (flu season or not!). The new Abiie G2G Baby Deck Stroller enables parents to avoid the unpleasantness of changing baby in a restroom and also helps keep baby germ free with a built-in changing table. The stroller converts instantly into a flat surface with a removable, washable antimicrobial pad and a special compartment for baby wipes. Available in three contemporary colors, this attractive collapsible stroller is practical and comes complete with peepholes, durable wheels, double brakes, and plenty of storage.
Best Feature: Keeping baby out of public restrooms is a hands-down winner.
Price: $199
Available at: BabiesRUs stores and www.abiie.com