Check out some nifty products on our radar for children and families, including chic nursery decor and furniture; a tea set just for moms; and a colorful cure for bumps and bruises.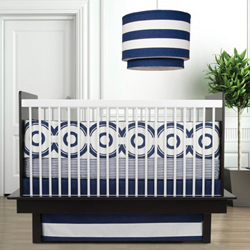 Sophisticated Nursery
For moms looking for modern and classy décor for their baby's room instead of over-the-top bright and cutesy patterns, Oilo designs epitomize style. Oilo was founded by Annalisa Thomas, a former art director and graphic designer, and her mother, Dorte Anderson, a former interior designer with more than 25 years of custom interior design expertise. The Oilo collection includes chic baby bedding and designer home furnishings. Thomas started the company after looking for the perfect baby bedding for her first child and discovering the need for high quality, designer level modern baby décor without the designer price tag. Wheels (pictured) features clean, circular modern designs and is made from 100 percent fine woven cotton. The bedding set includes a zippered side bumper cover (foam-filled for standing durability), tailored skirt and fitted cotton percale crib sheet.
Best Feature: Collection includes a glider, pillows, and lighting
Price: Individual pieces start at $50 and up; full three-piece crib set is $399
Available at: www.oilostudio.com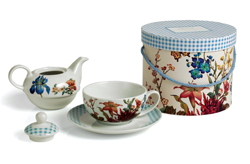 Mother's Day Tea
There's probably nothing more soothing than a relaxing cup of tea to wind down a busy day. The Tea for One Service Gift Box Floral Garden makes for the perfect Mother's Day gift. This tea service for one allows moms to have a small luxury just for themselves after days of serving everyone else. Made of pure porcelain, the set includes a 6 oz. teapot and 8 oz. teacup with saucer. Both are dishwasher and microwave safe.
Best Feature: Since it is single serving size, this tea set is one item that is exclusively for mom
Price: $24.95
Available at: Barnes and Noble stores and www.BN.com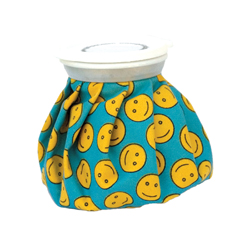 Instant Relief
When your child is sick or takes a tumble, how many times have you filled up a plastic bag of ice to ease the pain only to have it leak or get uncomfortably cold? Not the ideal method of relieving pain, but it was your best bet...until now. The retro ice bags created by Gal Pal are 20 mini size bags that can be filled with either ice or warm water to soothe bumps and bruises. Available in prints such as footballs, duckies, zoo animals, and happy faces, these bags are the ideal size for a child's body. And don't discount the comfort they can bring to moms too, for everything from a tough yoga class to migraine headaches.
Best Feature: The bright cheery designs on the outside will distract kids from the injury and as every mom knows, distraction for an upset child is a great thing
Price: $16.99
Available at: www.gal-pal.com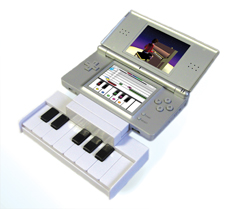 Piano Practice On-the-Go
If your child takes piano lessons or you are considering signing her up for some, the Easy Piano may come in handy. This innovative piano music game for the Nintendo DSTM system lets players have a realistic piano experience, teaches players how to play the piano, and lets inexperienced players follow prompts to hit certain keys like many other video games. Would-be pianists have the choice to play using a virtual 8-octave, 13-note keyboard on the Nintendo DSTM touch screen, or using a real external 13-note keyboard peripheral specially made to work with Nintendo DSTM. Whether taking piano lessons or selecting a quick game, all players are tutored in the correct finger movements and skills required to become a mobile virtuoso. Game includes ten lessons and a host of mini-games to teach the basics.
Best Feature: Kids can compose and record up to three songs using the keyboard or by placing notes on a music scale
Price: $39.99
Available at: Walmart and Toys R Us stores