Check out these new and noteworthy products just for kids and parents! Features this month include Heidi Klum's new maternity clothing lines, a special new night light for young children, and more.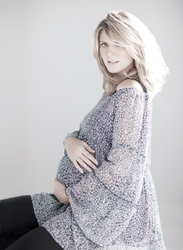 Project Maternity Wear
Supermodel and mother of four (yes, four!), Heidi Klum recently launched two new maternity lines: Lavish By Heidi Klum for A Pea in the Pod, and Loved By Heidi Klum for Motherhood Maternity. "I chose to call my collection for A Pea in the Pod Lavish because there is no grander name to express everything you want to give yourself and the child growing within you," said Heidi Klum. "For Motherhood Maternity, Loved is a celebration of new life and the love around you and your baby. I experienced fashion challenges during my four pregnancies and combined my knowledge of what works in terms of style, comfort and practicality to create these lines. They are all about making you feel beautiful; being pregnant shouldn't stop you from being fashionable and feeling great about your changing body. It's an exciting journey." Heidi's collection includes the oversized georgette top with signature hand-drawn print (pictured) for $39.98 and second-skin dark wash jean with top stitching detail for $34.98.
Best Feature: Looking fashionable amidst the many pregnancy body changes - not only necessary but fabulous.
Price: Varies; moderately priced
Available at: Destination Maternity; www.motherhood.com and www.destinationmaternity.com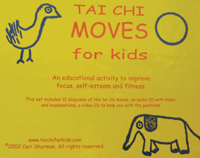 Unwind With Tai Chi
If you're looking for a fun and relaxing way to help your child focus and feel good about herself, consider trying Tai Chi. This form of mind/body exercise can be done by any age or level of fitness, and help you relax in as little as five to 10 minutes per day. This CD set is now available for use in the comfort of your own home. Tai Chi Moves can be done in the morning to wake up, after lunch to refocus and get back to work, and at bedtime to relax and fall asleep. Tai Chi Moves for Kids is for kids up to grade 3 and Tai Chi Moves is for older kids and adults. Each set includes a CD Rom video for the computer to help learn the moves and an audio CD for regular practice.
Best Feature: Studies show Tai Chi provides an improvement in self-esteem, performance, and attitude.
Price: $24.95 each set, plus shipping
Available at: www.taichiforkids.com and Amazon.com
Forty Winks

National Sleep Awareness week takes place this month so if your little one has trouble rising too early in the morning, it's the perfect time to get your child's sleeping on track. The Good Nite Lite is a behavioral modification device that

helps children, ages three to five, get enough sleep each night. The sun face dial lets parents pre-set a certain period of time for sleeping. When the pre-set "bedtime" arrives, parents show the child the Good Nite Lite, which turns from a joyful Sun face to a serene Moon expression. In the morning, the Moon changes back to the Sun at the pre-set time, signaling kids it's time to rise and shine.
Best Feature: Kids can be told to remain in bed until the moon turns back to the sun, which helps children too young to tell time, give you those few extra moments of sleep that every mom needs.
Price: $34.99
Available at: www.goodnitelite.com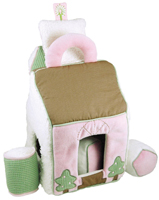 Play and Learn...Naturally
Dandelion Earth Friendly Goods' Pink Little House Shape Sorter features textures and sounds to keep your daughter entertained while she learns. The shapes on the house teach kids to shake, squeeze, and sort. Dandelion's toys are made of soft organic cottons and filled with fluffy, natural corn so moms need not worry about chemicals in their plush products.
Best Feature: Not only will your child enjoy the cuddly toy, but a portion of the proceeds go directly to support breast cancer research.
Price: $39.99
Available at: www.dandelionforbaby.com