Let's all agree that dads are difficult, if not impossible, to shop for. This Father's Day, get him a gift he'll really appreciate -- check out our top gift picks below for the big guy in your life.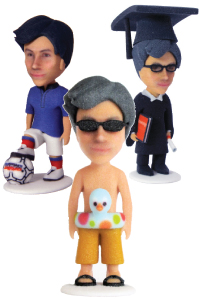 Your Own Private Avatar

Want a unique, quirky gift for a graduate or dad? Transform an old-fashioned 2D photo into a tangible miniature -- of them. Two photos, to be precise (front and profile), are uploaded online, and via 3D printing technology, your minis are "sculpted" in France and delivered to you. Get as creative and customized as you dare -- describe your child's school or soccer uniform, for instance, and Sculpteo will recreate it as closely as possible; or photograph dad with that goatee you're hoping won't last too, too long... (from $74.90; www.sculpteo.com)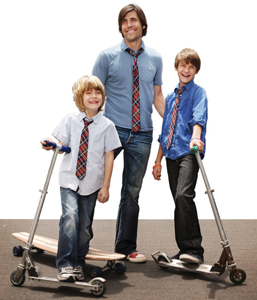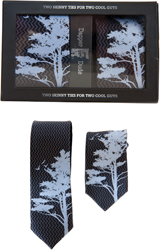 Family Ties

Because it's cute-and well, why not? Matching ties for all the boys in the house! These Dapper Dude skinny ties are made from 100 percent silk and come in designs shown as well as herringbone. Kids' versions are pre-tied with a zipper built into the knot. ($54 for Dad & Youth set or Dad & Boys set, each with two ties; www.diaperdude.com)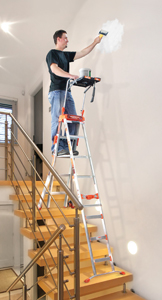 Weekend Warrior

Handy Manny may have taught your kid about engines and flathead screwdrivers, but he's not changing that light bulb at the top of the staircase, is he? Let Dad at it with the Select StepTM Adaptive StepLadderTM. Chances are he's seen some version of this Little Giant product on a late-night infomercial and pictured himself on it, so why not indulge his inner handyman and get it for him? The ladder is small enough to stash efficiently in the tiniest city apartment and versatile enough for use in every room in bigger suburban homes.
Best features: easily (yes, easily) adjusts to four heights and adapts for use on slopes, flat ground, or steps; built-in, stable standing platform; Tip & Glide wheels; and at just 25 lbs., it holds up to 300 lbs.! ($197 Father's Day Promotion at Home Depot stores starting June 1; regularly $239; also available at www.selectstep.com)




What a View!

Your child's outgrown his baby carrier, and traditional piggyback rides can be a killer on the back -- now there's a solution that replaces bulky backpack carriers and strollers and is just as fun: The Piggyback RiderTM supports a child up to 60 lbs, 2½ to 7 years of age, utilizing a shoulder-mounted foot-bar to distribute the child's weight at your core, which enables a natural upright walking posture. The child stands firmly on the wide foot-bar, holding integrated grab handles and secured by a safety tether. And it weighs less than three lbs. and stashes in a bag the size of a rolled-up towel. It'll bring you and your child closer together, whatever your adventure.
($79.99; www.thepiggybackrider.com or www.everythingforthebaby.com)