Check out the must-have products this summer, including a lightweight but strong line of mesh beach totes; a hair product that protects against damage by sun, salt, and chlorine; fun pool and water toys for kids; and a chalk art set for kids.





Smart Aleck Art
Chalk the Block (Klutz) is a handbook of inspired lunacy for your kids. Arm them with some chalk (the book comes with four chunky pieces to get started) and set them loose on your neighborhood sidewalks. The simple suggestions -- incorporating sewers or rocks or walls into witty designs -- are guaranteed to bring smiles to passersby. (Ages 6 and up)

Just Beachy
We don't have to remind you to lather up the sunblock on your babies, but you no doubt need a nudge to protect your tresses when you're out in the sun all day. Phytoplage L'Originale Protective Beach Spray is a defense against sun, salt, and chlorine: olive oil extract nourishes, and UV Filter and UVB Polymers guard against sun damage. Can be sprayed on dry or damp hair. (The website 3FlOz.com provides a fun virtual shopping experience for a range of self-care goodies, so while there stock up on beach bag essentials and more.)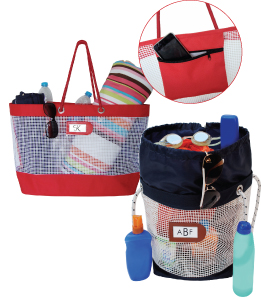 Mixed Bag
This mesh beach tote (it's 12" tall) and its roomier alternative (24" wide) are both lightweight yet strong and sport fun nautical details. Niftiest idea: Turn the bags on their side to shake out accumulated sand after a day at the beach and avoid bringing -- at least some of -- the grit home. A zipper pocket on the tote is big enough to stash keys, and the built-in pocket in the large bag can accommodate keys, cell phone, and other small essentials you want to keep dry.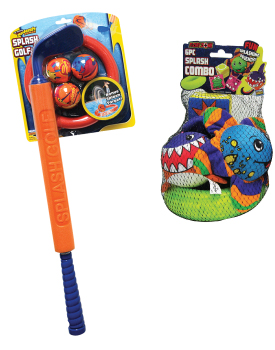 Fore!
Water toys for everyone: For families with a private pool, this Splash Golf set (ages 6 and up), which comes with a floating target, three balls, and a golf club, is an inexpensive way to usher in hours of fun -- water-soaked balls add to the challenge while the game itself helps develop hand-eye coordination. The Splash Combo set, for toddlers, comes with two absorbent floaty pets, three cubes, and one ring to use for target practice -- or as a mini-life preserver for your child's favorite doll! (Prime Time Toys; $16.99 for golf set; $9.99 for combo)