We've put together some of our favorite Valentine's Day gifts for kids and parents. Show your little one some love with a special lunchbox that carries love notes or help mom unwind with a set of celebration glasses from Bohemiarts.



Seeing Red
On the Boy Sees Hearts website, there are various six-word interpretations of their mission: "Seeing a heart transforms your day"; and "There is magic in the mundane" are two that resonate. The story: Founder Eric Telchin saw a heart in a puddle of melted ice cream, then went searching for the shape in everyday objects - now you can purchase eye-catching artwork that inspires smiles. Fine art prints, gallery wraps, customizable greeting cards, and framed prints are available, starting at $10.50).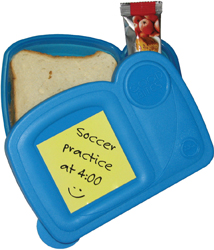 Love Notes
Make Valentine's Day the first of many days where you tuck tiny bits of Mommy- or Daddy-love into your kids' lunch boxes. Reminding them you care has never been easier: The Good Bites Sandwich Box ($5.99; www.mominventors.com) is BPA-free and dishwasher safe - and it has a clear pocket on top to slip in a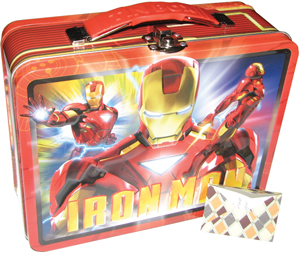 Post-It-sized reminder.
And this lunch tin ($35.95; www.kindnotes.com) actually comes stocked with mini envelopes and "KindNotes" that you can either craft yourself or choose from an array of preprinted options ("You know what I love about you? Everything!").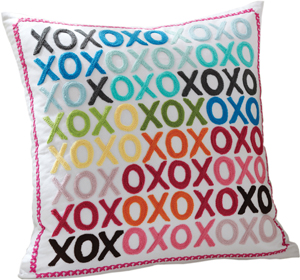 XOXO
Home is where the heart is: This throw pillow is so colorful and cool it might even motivate your tween daughter to make her bed once in a while. The 18-inch pillow cover is made from 100% organic cotton, and $5 of every purchase will be donated to the Boys & Girls Clubs of America ($29 for pillow cover, $9 for insert; www.pbteen.com).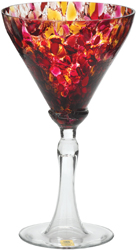 Cheers!
Have a date-night dinner at home, and gift yourselves with a pair of hand-crafted, mouth-blown celebration glasses from Bohemiarts. Each is a one-of-a-kind piece of functional art (raise a toast to your family with the wine glasses, or try serving fruit or gelato in the martini glasses at your next gathering). Pictured are the red rose wine goblet and martini glass ($65 each); www.tisfortable.com.