About 5 percent of kids stutter at some point in their young lives, and most (with early intervention) leave it behind for good. Our experts explain the disorder and how to manage it.
Peter Reitzes, a speech-language pathologist (SLP) who works in a public school in Brooklyn, says whenever he gets a message from school staff that a parent tried to reach him and that they were crying, he can guess with certainty that the parent is calling about a child who is stuttering. "Stuttering really scares parents," Reitzes says.
Dawn La Clair, an SLP who does not specialize in stuttering, experienced that fear personally when her first child, Aidan, whom La Clair describes as intelligent and verbal, started stuttering at 2½. "Every time Aidan stuttered my husband and I would kind of look at each other and say, 'Oh, here it comes again,'" she says.
La Clair's lowest moment came when Aidan was attempting to give his order to the neighborhood ice cream man and struggled so to get out the word 'chocolate' - his favorite flavor - that he finally gave in and said 'vanilla' instead. "My heart was absolutely broken," says La Clair. "I cried myself to sleep."
"When a parent is not familiar with stuttering and finds out their child stutters, they believe their dream of having a perfect child is gone. But that's just not the case," says Mitchell Trichon, Ph.D., St. John's University, whose research has focused on the role of self-help activities in stuttering management.
The precise cause of stuttering is not known, but many experts believe it involves a genetic component. Exciting new research by the National Institute on Deafness and Other Communication Disorders released earlier this year identifies three genes that are linked to stuttering. "This research is important because it's another indication that emotional factors such as anxiety or 'bad parenting' do not cause stuttering. It could also point the way for a cure one day," says Jane Fraser, president of The Stuttering Foundation.
More boys stutter than girls. And most children, about 80 percent, who start stuttering before the age of 3 go on to become fluent speakers - in other words, they stop stuttering - whether or not they receive therapy. About 5 percent of all children will stutter at some point. The longer the stuttering continues, the less chance there is of recovery.
Stuttering is classified as a speech disorder and is typified by repetition of sounds like m-m-m or repetition of syllables like cho-cho-cho-chocolate. Prolongation of sounds like sssssnake, and tense pauses or blockages where words "get caught" in the throat are also typical.
There are also secondary behaviors which the person who stutters may demonstrate in an effort to get his words out - such as eye blinking, hand and foot tapping, or throat clearing. Avoidance measures are also often exhibited, such as word substitution, as in the case of Aidan's ice cream choice.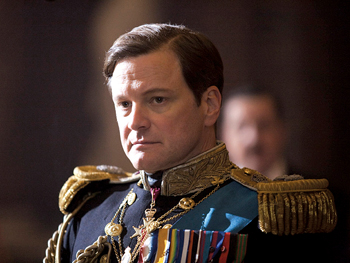 Even though the majority of preschoolers who stutter will recover spontaneously, most experts now agree that early intervention in the form of speech therapy is recommended. "Doctors tell parents to wait, wait, wait. My advice is not to wait at all," says Lori Melnitsky, a Long Island-based SLP who specializes in stuttering and is trained in the LIDCOMBE method, which teaches parents how to provide therapy at home. "The child runs the risk of stuttering their whole life."
Children who stutter often live in fear of simple tasks like raising their hand in class, speaking on the phone, or ordering food in restaurants. "The child asks, 'Why me?'" says Taro Alexander, founder and director of Our Time, a theater company for children who stutter. "It can really ultimately claim a child's desire to speak."
In The King's Speech, actor Colin Firth garnered an Oscar nomination for his role as King George VI of England, who overcame his stutter with the help of a rather unorthodox speech therapist. Firth's character found his voice and ultimately delivered an inspiring radio-address that helped unite the British people in battle in 1939.
Choosing a Speech Therapist
Most SLPs do not specialize in stuttering, but it is recommended that you find a board-certified SLP who does to work with your child. Reitzes says parents should not be shy about asking the therapist specific questions. For example, does the therapist have any special training or coursework in treating stuttering? How many people who stutter has she treated? He also cautions against a therapist who make promises. "I'd be concerned about someone who's making a guarantee," he says.
Diagnosing Stuttering
Melnitsky, who is the founder of All Island Speech and Stuttering Therapy, says making a diagnosis should involve formalized testing, informal observation, and a parent interview. She suggests parents bring an audio or videotape from home of the child interacting with family members to the evaluation. "Stuttering is cyclical in nature and sometimes children are fluent during evaluations," she says. "It is vital to assess speaking across many different situations."
Easing Self-Blame
Many parents struggle with feelings of self-blame. They wonder what they may have done to contribute to the disorder. And while it's only natural to want answers, the truth is, there is no one to blame for a child's stuttering. "Parents sometimes feel guilty, thinking that they caused this," says Trichon. "It's not the parent that caused it, but a parent can change the home environment."
Trichon suggests encouraging turn-talking and being a good listener. "These are simple things that you can do to make it easier for your child to talk at home," he says.
Boosting Self-Esteem
Issues of self-esteem are almost certain to come into play if your child stutters. And as many parents fear, the unfortunate truth is that many children who stutter are picked on by other kids, and often feel socially isolated. Jim McClure of the National Stuttering Association (NSA) says that stuttering is one of a few disorders where it's still 'okay' to be ridiculed. Stats from the NSA bear this out - eight out of 10 kids who stutter have been bullied or teased.
Finding Support
Parents should create an accepting, reassuring environment at home, one where the child knows that he will be heard, even if he's stuttering. Experts suggest being open about your child's stuttering with teachers, coaches, and your child's friends. At the beginning of the school year - a time of great trepidation for most kids who stutter - go in to see your child's new teacher. Explain that your child stutters and suggest ways that the teacher can help.
Some children have found success with giving a presentation to their class on stuttering, while others prefer explaining to their peers one-on-one. Anything that demystifies the process is helpful. With stuttering occurring in only about 1 percent of the adult population, many people have actually never met someone who stutters.
Self Help and Support Groups such as FRIENDS and the NSA can be beneficial to your child. "Good therapy is important, but support is often the missing piece," says Lee Caggiano, founder of FRIENDS, The National Association of Young People Who Stutter, and a Long Island-based SLP. "A kid has a chance of continuing to feel that he's 'less than,' and getting involved with support teaches him that he's not."
Shauntie Williams, mother of 10-year old Tyler, who is an Our Time member, agrees. "I didn't want Tyler thinking he had a problem, that he needed to be fixed," Williams says. "Since he got involved with Our Time he's okay with the way he is. He knows there's nothing wrong with him. He's just different."