Gone are the old days when museums were stuffy, boring places for children. This summer, many city museums and a zooare offering outdoor events, concerts, play spaces, and exhibits. Be sure to check websites for up-to-the-minute changes, additions and news before you go!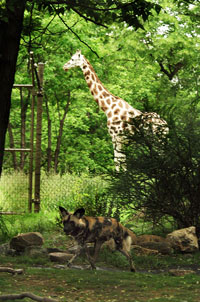 MANHATTAN
American Museum of Natural History: The American Museum of Natural History offers a series of weeklong summer camps, where young would-be scientists can get some hands-on experience during their vacation. Each camp has a theme, e.g., Astrophysics or Water, and includes hands-on investigations, behind-the-scenes tours, and visits with museum scientists. In the Meet the Beetles and Leapin' Lizards camps, children spend time in Central Park learning about the habits and habitats of their chosen species. Five-day sessions $450, three-day sessions $350. To register, call 212-769-5200. Central Park West at 79th St. 212-769-5300. www.amnh.org.
Children's Museum of Manhattan (CMOM): CMOM has reopened its popular outdoor water exhibition, City Splash, featuring an interactive outdoor playground where kids can play with water while learning about its properties. Special programs allow children to make water paintings or float boats down tubes, and in the special series, "Water Ways," they can learn how water is stored underground and how swamp water is filtered. $9 over age1. Tuesday-Sunday, 10:30am-4pm. 212 West 83rd Street. 212-721-1234. www.cmom.org.
Metropolitan Museum: Where can you take your family to see a balloon dog, a huge Valentine's chocolate, and Piglet? At the Metropolitan Museum's Iris and B. Gerald Cantor Roof Garden, pop artist Jeff Koons' large, shiny installations are on display this summer against the backdrop of the Manhattan skyline, a combination that should appeal to children of all ages. When the sun gets too hot and your kids are crying out for snacks, you can take refuge in the roof garden cafe with its shaded areas. "Jeff Koons on the Roof" is on view through October 26. Suggested donation: $20, children under 12 FREE. Tuesday-Thursday and Sunday, 930am-530pm; Friday-Saturday, 930am-9pm. 1000 Fifth Avenue at 82nd Street. 212-535-7710. www.metmuseum.org.  
The Cloisters: Celebrate the beautiful gardens of Upper Manhattan's gem on the weekend of June 7-8. Garden Days at the Cloisters is a weekend of programs focusing on aromatic and scented plants used in all aspects of medieval life, from cooking and housekeeping to perfumery and religious rites. "Making Sense of Scents," a program for children ages 4-12 and their families, will be offered in English and Spanish. A perfumer will give a talk and demonstration of medieval perfume-making. Tuesday-Sunday, 9:30am-515pm. Suggested donation: $20, children under 12 FREE. Fort Tryon Park. 212-923-3700. www.metmuseum.org.
BRONX
Bronx Zoo
In addition to paying a summer visit to the animals, kids can enjoy rides at the Bronx Zoo for a bit of extra fun! The Zucker Bug Carousel has bugs so big you can ride them. Next to the Butterfly Garden, visitors can take a "buggy" ride on a long-legged praying mantis, a bright green grasshopper, or another favorite creepy crawly. $2 plus zoo admission.
Board the Wild Asia Monorail and you'll be convinced you've left the Bronx for the forests of Asia. View elephants, rhinos, sambar deer, antelopes, and Indo-Chinese tigers as they roam in their open, outdoor habitats. Operates weather permitting. $4 plus zoo admission: $15; children 3-12, $11. 2300 Southern Boulevard, Bronx. 718-220-5100. www.bronxzoo.com.
BROOKLYN
Brooklyn Children's Museum:  In September, the Brooklyn Children's Museum will reopen in its new, expanded space. In the meantime, check out an array of events — FREE kayak rides, puppet shows, face painting, live animals, and eco-activities, to name but a few — hosted by the Brooklyn Children's Museum On-The-Go, as it makes appearances at the Red Hook Waterfront Arts Festival, South Brooklyn Bastille Day Festival, Brower Park Summer Concert Series, Solar One Family Day, and many other outdoor venues. For details of the Museum's On-The-Go activities, call 718-735-4400 or check out www.brooklynkids.org.
Brooklyn Museum: On the first Saturday of each month, the museum opens for a FREE evening of family fun, festivity, and outdoor dancing in the Target First Saturday series. July's First Saturday is "Viva Africa" — celebrate Africa with Somi's New African  jazz and soul, Maimouna Keita's explosively enchanting traditional dance, films by Ousman Sembene and Abderramane Sissako, collage making with Hands-On Art, and a blend of modern African dance music. 5-11pm. 200 Eastern Parkway, Brooklyn. 718-638-5000. www.brooklynmuseum.org.
QUEENS
Long Island Children's Museum: Do your children love playing with Tupperware in the bathtub? If so, the Long Island Children's Museum's (LICM) new exhibit, H2Oh! Watering Our Backyard, is sure to be a hit. A 700-square foot water play area in the museum's backyard, the exhibit teaches children about water, its properties, and water conservation. Children can race boats down two rills in a current they create and alter the water flow with a damming activity. The rill water falls down into two natural-looking streambeds that can be crossed by bridge or stepping stones, and the streams feed into a fishing pond. Kids can create summer showers on demand using a hand pump and showerhead. The LICM is open Tuesday-Sunday in June, daily in July and August. The outdoor exhibit is open (weather permitting) 10am-5pm. $9. 11 Davis Avenue, Garden City.  516-224-5800. www.licm.org.
New York Hall of Science: A giant bird's nest, three sandboxes (one with a sand conveyor), a glass tunnel, and African, Asian, and Caribbean drums — what more could kids ask for in a playground? The New York Hall of Science has doubled the size of its popular outdoor Science Playground this year, and it now has 30,000 square feet of exhibits designed for children ages 6 and under. Using slides, seesaws, a water play area and other interactive tools, children learn some basic principles of physics. Music and mirrors help them along in their paths to discovery. The Science Playground is open daily, weather permitting, and costs $4 per person with museum admission ($11; children, $8). 47-01 111th Street, Queens. 718-699-0005. www.nyscience.org.
P.S.1 MoMA: Families can enjoy music in an unusual interactive environment this summer at P.S.1. The museum's annual Warm Up series brings music to the large outdoor courtyard on Saturday afternoons and evenings. At the same time, a new architectural installation opens in June by the name of P.F.1 (Public Farm One). Constructed from large cardboard tubes, its top surface is a working farm, blooming with a variety of vegetables and plants. The structure is intended to work as an interactive bridge between outside and inside, creating multiple zones of activity including swings, fans, sound effects, innovative seating areas, and a refreshing pool at its center. The Warm Up summer music series is every Saturday, 3-9pm, July 5-September 6. $10. P.F.1 Installation goes on view June 20. 22-25 Jackson Ave at the intersection of 46th Ave., Long Island City. 718-784-2084. www.ps1.org.
Queens Museum of Art (QMA): First Sundays series includes: June 1, a walking tour of Flushing Meadows-Corona Park to collect natural objects and use them to create ephemeral artworks; August 1, illustrated talk about works of art that are made to respond to particular places and spaces and then make site-specific artwork.  Both 1-4pm.  June 22, celebrate the arrival of summer with Sun Festival/Fiesta del Sol/Inti Raymi, featuring a "Virgin of the Sun" parade, live entertainment, children's activities, art workshops and contests. FREE.  Flushing Meadows-Corona Park. 718-592-9700. www.queensmuseum.org