Gone are the old days when museums were stuffy, boring places for children. This summer, many local museums are offering outdoor events, concerts, play spaces, and exhibits. Be sure to check museums' websites for up-to-the-minute changes, additions and news before you go!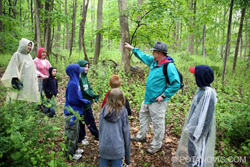 WESTCHESTER
Caramoor
The Caramoor estate extends over 80 acres, and the gardens — including a butterfly garden — are perfect for family strolls and picnicking. In addition, this year as part of its International Music Festival, Caramoor will be hosting several family events. Al Fresco Concerts, on June 22, and July 13 and 20, will introduce families to Caramoor and let them enjoy the performance from the picnic grounds. $13. Tango for the Family on July 6 will take visitors on a musical journey through Latin America, with a visit to Argentina and Uruguay and music and dance of the Tango.  For ages 6+. A parallel program, Tango for Tots, will be held in the Reception Tent for children under 6. All tickets $15. Visit the website for times and tickets. 149 Girdle Ridge Road, Katonah. 914-232-5035. www.caramoor.org.
Hammond Museum and Japanese Stroll Garden
The Hammond Museum's Japanese Stroll Garden is a "children's heaven." Numerous ponds with fish, turtles and bullfrogs, an abundance of various, sweet smelling flora, and the crunching of pebble trails underfoot make the garden a feast for the senses. Children's workshops scheduled throughout the summer months. Wednesday-Saturday, 12-4pm. $5; children under 12, FREE. 28 Deveau Road, North Salem. 914-669-5033. www.hammondmuseum.org.


Katonah Museum of Art
Kids can gain a fly's perspective when they view artist Philip Grausman's outdoor sculptures up close. The sculptures — two large fiberglass heads — are over 10 feet tall and will be on display in the sculpture garden and in front of the museum. The pieces are part of the summer exhibition, California Impressionism: All Things Bright and Beautiful, which opens July 13. Tuesday-Saturday, 10am-5pm; Sunday, 12pm-5pm. Admission: 10am-12pm, FREE; 12-5pm, $5; seniors, $3; children under 12, FREE. 134 Jay Street off Route 22, Katonah. 914-232-9555. www.katonahmuseum.org.  
Washington Irving's Sunnyside
Every Thursday during the month of August, children are invited to explore the world of Washington Irving's Sunnyside. From a Child's Perspective allows families to take a specially tailored tour of the home of Washington Irving, presented with a child's eye view of the 19th century. Visitors can hear tales of Sunnyside's young residents, try their hands at an interactive scavenger hunt, participate in hands-on activities and enjoy displays of period toys. A new craft activity will be offered each week. 10am-5pm. $12; children 5-17, $6; 5 and under, FREE. Off Route 9, Tarrytown. 914-631-8200. www.hudsonvalley.org.
ROCKLAND
Hopper House
Music in the Garden is Hopper House's annual summer jazz concert series. It takes place on seven consecutive Thursday evenings, 7:30-10pm, July 10-August 14. 82 North Broadway, Nyack. 845-358-0774. www.hopperhouse.org.
Hudson Highlands Nature Museum
On Saturdays and Sundays throughout the summer, visitors to the Hudson Highlands Nature Museum can take part in Discovery Quests, each one billed as a "nature adventure on the trails."  Best for ages 5 and up, the Quests range from casual to challenging. Meet the Quest Ranger at the Quest Visitor's Center to get set up. Museum Day Pass, $3 ages 5+; Quest Guidebooks, $5 and may be shared. 20 Kenridge Farm Drive, Route 9W, Cornwall. 845-534-5506, ext. 204. www.hhnaturemuseum.org.
M/V Commander
The historic vessel M/V Commander, built in 1917, is listed on the National and State Registers of Historic Places. In 1918, it was leased by the U.S. Navy and assigned to the Brooklyn Navy Yard to outfit submarine chasers and two barrage balloons, to protect the Rockaway Air Station from German Zeppelins. Today, Commander is the last operating vessel that served in the U.S. Navy in World War I. With a certified captain and crew, the M/V Commander now cruises the Hudson Highlands from West Haverstraw, West Point and Peekskill from May to October. Reservations required; fees and schedule vary; credit cards not accepted. Call for reservations and available dates. 845-534-7245. www.commanderboat.com.
CONNECTICUT
The Seaside Center of the Bruce Museum
The Seaside Center of the Bruce Museum is a beachside museum located on Greenwich Point. The Center aims to educate visitors about the ecology of Long Island Sound and environmental issues. Highlights include a touch tank, coloring area, weekly activities and guided walks. Open to the public July 5-August 31. Wednesday-Sunday 10am-4pm. Closed Monday and Tuesday. There is no admission fee for the Seaside Center, but visitors need a beach pass to enter Greenwich Point where the Seaside Center is located; $5 ages 5-64 years. Children under 5 must be accompanied by an adult at all times. Tod's Driftway at the end of Shore Road, Greenwich Point Park, Greenwich. 203-869-6786. http://brucemuseum.org/education/seaside.php.
Stamford Museum & Nature Center (SM&NC)
Animal Embassy at SM&NC provides live animal experiences through programs designed to cultivate appreciation, understanding and interest in wildlife and their environment. Tuesday-Sunday, 10am-2pm. There is an Otter Pond where visitors can watch Edith the otter play, eat and climb, and kids themselves can have fun on the giant outdoor playground that has multiple climbing structures as well as picnic tables. Open daily 9am-5pm weather permitting. $8; seniors $6; children 4-17, $4. 39 Scofieldtown Road, Stamford. 203-322-1646. www.stamfordmuseum.org.