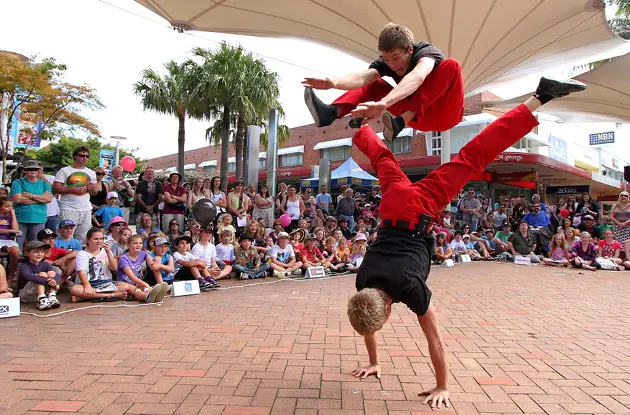 Circus Performers Hit NYC Streets This Summer
Get can't-miss family activities sent to you!
Get the Best Family Activities
Sent to You Weekly!
Gizmo Guys
Simply put, the Gizmo Guys are a comedy juggling act. In actuality though, they are much more. Their act includes original routines, quick-witted verbal repartee and world class juggling skills in a very light-hearted approach to the art. Touring worldwide since 1987, the Gizmo Guys have appeared before well over a million people in more than 2500 live performances, and have performed for millions more on television. In addition to touring extensively in the U.S. and Canada, the Gizmo Guys have strutted their stuff in places as diverse as Saudi Arabia and Japan and have taught juggling at the renowned French and Canadian National Circus Schools.
Hybrid Movement Company
The Hybrid Movement Company, a dance, acrobatic, and visual arts troupe, will present two works, Momentum and Are You the Dreamer? Momentum, a new piece, focuses on risk-taking perpetual movement driven by rhythms and flowing through melodies. It is performed in a powerful cohesion of Hybrid Movement, circus arts, classical and contemporary ballet, rhythmic gymnastics, bobbing, waving and popping. Are You the Dreamer? is a transubstantiated tale exploring beauty, ugliness, rejection, love, dreams, and fear through dancing and dynamic movement. The Hybrid Movement Company has been hailed by the New York Times as one of the most innovative Contemporary Circus Companies in the USA today!
The Incredible Incredible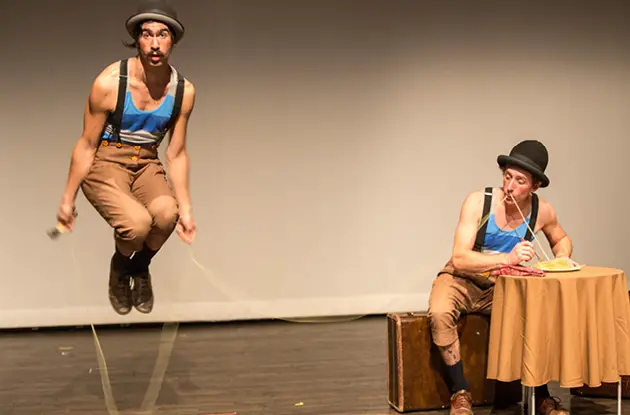 The Incredible Incredible presents, 'Palindrome', the story of two characters, each the other's imaginary friend, meeting for the first time to unfold the intricacies of their tangled coexistence. Performances feature invisible string manipulation, shoe poi, impossible feats with silverware, sinus explorations, snail hats, and finger stunts all set to live music! The Incredible Incredible is a physical theatre duo formed by two friends inspired by mime, physical comedy, traditional American sideshow, European clowns, and street theatre. Matthew "Poki" McCorkle is a self-taught physical performer known internationally for his surreal hoop illusions, movement based manipulation, and unique and unusual presentations. Justin Therrien is an entertainer that challenges the audience's perception of what is real and what is illusion with his unique blend of movement and skill based manipulation. Accompanying them is composer and multi-instrumentalist Lucas Hicks on accordion, percussion, harmonica and ukulele.
IMPACT Repertory Theater
IMPACT Repertory Theatre Performance Company uses the performing arts and the dynamics of leadership training to inspire and empower youth. IMPACT believes that arts and education play a pivotal role in providing opportunities and transitions for the leaders of tomorrow. IMPACT is rooted in creative self-expression and anchored by a commitment to Safe Space, Outstanding Effort and Service to the Community (S.O.S.). IMPACT promotes the positive development of young people ages 12 to 19 by providing a learning environment that encourages, nurtures and challenges its students. IMPACT offers workshops, leadership programs and performance opportunities. The programs and curriculum encourage IMPACT members to have the imagination, skills and confidence to create their "special place in the world." A core IMPACT value is attending college and giving back through active community service. All of IMPACT's classes and programs are free. IMPACT's ongoing performance program, creative labs, and 12 weeks intensive artist and activist training program are tuition free.
Kiebpoli & Shine
Kiebpoli Calnek (Kiebpoli) and Shawana Kemp (Shine) attended the High School for the Performing Arts here in New York City. They are collaborating for the first time with this piece that will expand into a full production. They have come together to create a collage of sound and movement. Kiebpoli Calnek is an actress and aerialist. She is a graduate of CCNY, a member of the Lincoln Center Directors Lab, and of the Actors' Equity Association. Her works have received generous funding and support from Elizabeth Streb, Astrea Foundation, Asian Arts Initiative, and The New York Foundation for the Arts. Kiebpoli is also founder and artistic director of Black*Acrobat, a social enterprise that seeks to empower fringe communities through the vertical world of aerial acrobatics with devised theatrical performances. Their shows tackle provocative dark subjects and re-imagine stories of the black diaspora. Fusing arts & activism by depicting what seems impossible, Black*Acrobat's work inspires and educates while curating spaces for community (r)evolution and sustainment. Shawana Kemp is a native New Yorker and the founder of Shine and the Moonbeams. Shawana has appeared at Symphony Space, Carnegie Hall Kids, and the Getty Museum in LA, among other venues, singing her smart and original tunes to diverse audiences. With retro R&B music that both kids and adults love, Shine and the Moonbeams sing about subjects kids can relate to: standing up to bullies, surviving harried morning routines, and celebrating individuality. A five-time winner of Amateur Nights at the legendary Apollo Theater, lead singer Shawana Kemp's evocative delivery is heartfelt, insightful, and emotional.
Lucky Bob
Watch as Lucky Bob juggles boxes, spins balls, reads minds and turns a volunteer into a magician. This show is action-packed and full of crazy magic and cool juggling stunts, a show not to be missed.
Magmanus Company
Magmanus Company is a Swedish circus company founded in 2009 by the Franco-Norwegian duo Manu Tiger and Magnus Bjoru. With a vision to spread happiness and inspire audiences to follow their dreams, Magmanus combines impressive circus skills, humor and audience interaction to present a show you'll never forget! In their current show, audiences will meet an angry, small but passionate acrobat and a foolish, gigantic yet so lovable juggler. Together they perform a show filled with jaw dropping skills and stomach turning comedy. Witness Bollywood juggling, unique teeterboard acrobatics, and a high-flying acrobatic grand finale.
MindFlip Duo
Mix Kid Ace's extraordinary magic with Paris the Hip-Hop Juggler's amazing stunts, and what do you have? MindFlip Duo: the hottest tandem to hit the scene! Mixing hip juggling with mind-blowing magical feats and comedy, MindFlip Duo, formerly known as The Renaissance League, create one fresh, exciting, full-length show with signature material that they've performed throughout the nation and abroad. Be careful not to blink. You might miss something!
The Red Trouser Show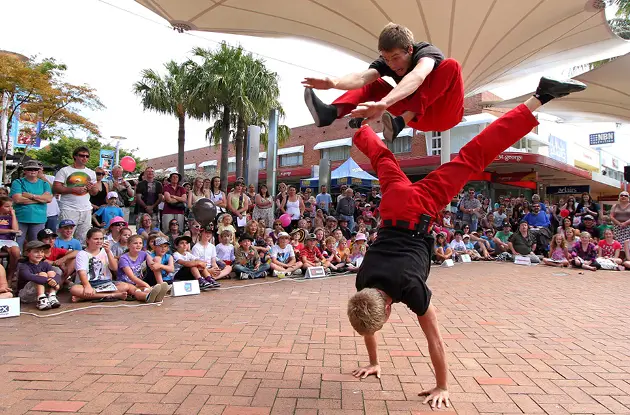 The Red Trouser Show, David Graham and Tobin Renwick, are a high-energy acrobatic, fire juggling, and comedy duo. They have been performing in circuses, theaters, and busking all over America and internationally since 2000. After starting out in Circus Smirkus, an internationally acclaimed youth circus that gave them an in-depth training in multiple disciplines from world-renowned coaches, they are now sought after worldwide. They have been called "a spectacular and unique act" by the Midnight Circus, and "amazing acrobats" by ABC News.
Shine and the Moonbeams with the Noel Pointer Foundation Youth Orchestra
Shine and the Moonbeams were inspired to collaborate with talented youth after witnessing the enthusiasm elicited from audience participation. They have decided to use their platform to showcase up-and-coming young artists, and are very excited to be working with The Noel Pointer Foundation Youth Orchestra.
Tinder & Ash
Hailing from every corner of the U.S., five circus artists found themselves in the same place (the New England Center for Circus Arts) with the same vision (to create a show about personal loss and transformation using the virtuosity of circus and the artistry of theater). Amaya Alvarado, Anthony Oliva, Fe Fox, Lauren Feldman, and Megan Gendell had performed individually and together in festivals, shows, and cabarets from Philadelphia to San Francisco, Manhattan to Latvia. Through a residency with the circus-mecca TOHU in Montreal, these five diverse yet kindred-spirit artists created Tinder & Ash, a highly physical journey of losing and finding ourselves and each other. Through humor, fierceness, and tenderness, the theatrical craft of its storytelling, and the virtuosity of its circus arts (trapeze, hand-balancing, hoop diving, hand-to-hand, and partner acrobatics), Tinder & Ash illuminates the human experience - where it begins, where it ends, and the many arrivals and departures in between.
Ziporah Roney & Collaborative Artists
The Five of Us is a collaborative of world class New York City artists who have come together under Ziporah Roney to create a new work titled "Echoing Ipseity." Celebrating a time of choice, confidence, love, ourselves, other selves, and life that surrounds us, "Echoing Ipseity" is a connective and welcoming experience that looks to speak to our most pure selves. Interpreted through dance, acrobatics, and music, each one of us teaches another the unity in our independence. Ziporah Roney is part of Hybrid Movement Company's Core Creative Team. She is a performer, choreographer, and designer for the group.
All images courtesy of City Parks Foundation.