It takes a lot to run a parent business in New York, and sisters Risa Goldberg and Leslie Venokur, founders of Big City Moms, have the perfect combination of insider knowledge and business acumen to make it work.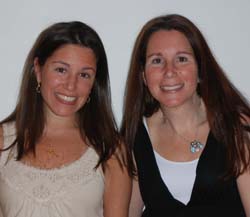 The sisters behind Big City Moms: Leslie (left), Risa (right)

   Goldberg, a mother of three and marketing manager for MSN, and Venokur, director of retail for Kidville NY, have tapped into the zeitgeist to provide moms with lunches, dinners, seminars and parties.

   Every week, Big City Moms has two lunches, Tuesdays at Kidville East and Thursdays at Kidville West.  Lunches have a topic and a speaker, on such issues as nutrition for mom, infant travel, or the best baby products.  But first, each mom introduces herself and her baby, and friendships are made. Lunches are $35, and many include gift bags and a chance to win new baby products.

   Big City Moms started three years ago, after Goldberg had her daughter, Hallie.  Events were usually held in the evening so new moms could get out of the house, and these informal gatherings continue.  There are free events, like the book lunch of Babyproofing Your Marriage, and ones where you have to pay, like dinner with Wendy Sachs, author of the book How She Really Does It: Secrets of Successful Stay-At-Work-Moms.

   The group even welcomes expectant moms, with evening events focusing on preparing for your new arrival.  Says Goldberg, "We're definitely the best in the expectant area - women know, when you become pregnant, you come to our events." Goldberg was even her own best customer recently, when she was pregnant with her twins, Cooper and Harrison, now 7 months old.

   Goldberg and Venokur say they are responsive to the needs of 'their' moms (it is free to join and the group has thousands of moms on its email list). Goldberg cites the "number one issue for new moms" as lack of sleep, so they invited sleep guru Dr. Harvey Karp to speak.  And the organization is not just for new moms; a recent event demystified the preschool process. Every month, an early evening event offers a "class sampler" so parents and kids can try out different local offerings of preschool classes.

   Families also get involved, with weekend parties, "where our husbands run the stroller check," says Venokur.  A New Parent Expo at Reebok Sports Club and a Build-a-Bear breakfast were recent offerings.

   Big City Moms is poised to expand to Long Island (where the sisters grew up), with a new lunch series.  The group gets inquiries from all over the country, and plans on taking the brand national.   

   For more information, go to www.bigcitymoms.com.