As a child growing up on Manhattan's Lower East Side and in Flushing, Queens,
Jeff Gomez
aspired to write comic books and create animated movies for the world to enjoy. But as often happens to young dreamers, Gomez was sometimes treated as an outsider and forced to contend with bullies who didn't understand his point of view.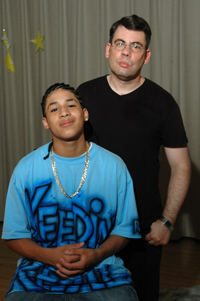 Gomez, with Baby J

Today, as president and CEO of the Manhattan-based Starlight Runner Entertainment, Gomez works with such firms as Mattel and The Walt Disney Company to bring fantasy worlds to life. He also makes it his mission to help kids embrace leadership values and deal with bullies. (Gomez will be speaking on these matters at the New York Metro Parents seminar, "Social Pressures: Issues Kids Face In and Out of School", on May 17, 2007).
How did your "Never Surrender" seminars originate?
In the late 1980s, I wrote a column in a magazine called
Gateways
. The column was about how we could take the positive values of the heroes we loved in movies, TV shows and books — cleverness, resourcefulness, bravery, vigilance, loyalty, action and intent — and emulate them in our own lives. I guess I was onto something, because I started getting invitations to speak at conferences and conventions. I also started getting letters, and later, emails from kids seeking advice.
In the '90s, I helped to create some popular comic books and video games, and I kept an open line of communication with the fans. After the Columbine shootings, the tone of the notes I was receiving changed. I wanted to help these nervous kids, but there was nothing out there I could recommend. I decided to develop a program to address the darker aspects of life and some of the more difficult issues they were facing. This became the "Never Surrender" seminar.
"Never Surrender" came into focus after September 2001, when my staff and I visited schools across the city to talk about the catastrophe. Psychologically it was trying, but even the small amount of catharsis it provided for the students was worth it. Since then I've taken time off from my production schedule to do seminars at schools around the country at least once a month.
Does the material in your seminars come from your own life experiences?
It's primarily based on personal experience. I am not a doctor, psychiatrist or therapist. But I found that the techniques I've used to deal with bullies my whole life have been effective for others.
My approach stems from the premise that bullying is a fact of life, and that even the best adult supervision is not going to completely protect kids from physical or emotional intimidation. There are, however, things kids can do to discourage bullying. Most of it has to do with fine-tuning physical and social presentation, as well as sharpening listening skills. What makes kids good leaders also makes them resistant to bullies.

Where do you give your presentations?
Schools, conferences and even Fortune 500 companies invite me. I think it helps that I've been involved with some highly recognizable projects like Hot Wheels, Turok Dinosaur Hunter, and Magic: The Gathering. I also have a strong 'street' sensibility. I'm Latino, an inner city kid, and can straight talk with the toughest of them. My advice is very specific.
I always give out my email address (
[email protected]
) so kids and parents can contact me if they need to. I've kept in touch with some of these kids, reviewed their projects, even written letters of recommendation to help get them into college or find jobs.
As a father, how would you advise your own child on how to deal with bullying?
At only 4, Evangelia has already had to deal with it. Growing up in a household where Mom and Dad make cartoons and video games can give a young girl a very different viewpoint. It's a bit less Dora the Explorer and a bit more Miyazaki's Spirited Away around here. Monsters aren't to be feared; they're to be grappled with and understood.
When Evangelia went to school and talked about the cartoons she watched or the cool 'monsters' in her house, no one got it! The other children thought monsters should be feared. They thought she was silly. It made her sad. She couldn't understand why they were behaving that way.
Our approach was to empower Evangelia by having her invite a few classmates to her house. She showed them some of the creature toys and animation, and they got excited about it. Conversely, we let Evangelia check out a few of the more popular kids' shows on TV, so she had more in common with the others. Success!
What message do you want to get across through your seminars?
Kids need to find strength. They need to understand the relationship they have with bullies, and that it's within their power to change that relationship.
Bullies can be violent, and there's not enough advice about this. Self-defense and dealing with authority figures on violence are also addressed.
I'm all about everyone getting along, but that doesn't happen. We need pragmatic techniques to deal with people who are trying to assert their will over us.