We've had many wonderful family vacations, but one destination gets our recurring #1 vote: Hawaii.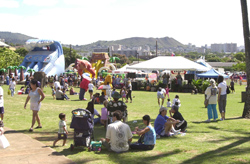 It's a long way to fly, granted — but well worth the effort.  Tropical sunshine cooled by constant trade breezes, fabulous beaches, natural eco-activities like hiking through rainforests to waterfall swimming holes and kayaking down rivers bobbing with hibiscus blooms.  Even the youngest can take surfing lessons — the sport the Hawaiians invented — and sail into the sunset on a catamaran cruise.
   But we culture vulture New York fams can't live without the arts for very long, and here's the good news:  In between the swimming and sports, kids can visit the only two royal palaces in Americas, walk inside a reconstructured volcano, peer into the skeleton of a whale, see a sacred structure that could not be unearthed, and learn how the ancient Hawaiians used a special plant to capture birds for their feathers.
   Museums, nature centers and the performing arts are alive and thriving, and these venues round out the perfect Hawaiian hiatus.  Here's what you can find in the cultural center of Honolulu:
HISTORY AND CULTURE
—Kids might not know that in the 19th century, what we now know as the 50th state was an independent kingdom, ruled by monarchs.  The last royal seat, the 'Iolani Palace, beautifully preserved and located downtown, was built in 1882 by King David Kalakaua. Known as "The Merry Monarch", Kalakaua may have lived thousands of miles from his British counterparts, but he was a man known for his curious mind and foresight. The Iolani Palace was equipped with electric lights four years before the White House, and its regal residents enjoyed telephones and running water long before the rest of the country.  As this is their chance to visit the only Royal Palace in the U.S., kids will enjoy viewing the King's great cloak, made of 450,000 rare yellow bird feathers; the his-and-her gilded thrones; and the crowns, swords and scepters on display.  The palace is open for tours, Tuesday through Saturday.
—While you're visiting the Iolani palace, plan to walk over to the nearby Mission Houses Museum.  Guided tours of the original houses and print shop are held Tuesday-Saturday, twice daily. Island missionaries tend to get a bad rap, but you'll learn that the Congregationalists who came to Hawaii from New England in the 1820s brought with them literacy and the humanities. Thanks to the missionaries, by the 1860s, 90 percent of the Hawaiians were literate, and children were being sent out from California to be educated; it was a lot safer coming across the ocean than it was for these children to travel east across the country.
   Kids will hear some myths debunked: that 19th century folk weren't necessarily a lot shorter than we are — their houses were small because the building materials had to be loaded on ships that had to round the Cape and on to the Pacific. Entertainment was simple in those days: Because men were the cooks in the Hawaiian culture, the locals used to gather at the windows of the missionaries' houses and watch, fascinated, as the women prepared meals. And these parents also kept their young ones close; the missionaries would suspend the baby's cradle above the parents' bed, hammock style.
—Just five miles from downtown Honolulu still sits the charming and historic Queen Emma Summer Palace.  In a lush tropical setting, the small house is New England, architecturally; in fact, it was built on the East Coast and then transported around Cape Horn by ship and installed as a refuge for the consort of King Kamehameha IV, a place to escape the heat and dust of Honolulu.  Saved and preserved by the Daughters of Hawaii, the house is open daily, 9am-4pm for tours.
—If your kids love fish and ocean life, they can see the rare skeleton of a humpback whale, sniff sandalwood, stroke a sea otter pelt, learn how to tie sailors' knots, spell out their names in Morse code, and board a model of a Matson ocean liner — at the Hawaii Maritime Center, located in the historic Honolulu Harbor. This museum showcases Hawaii's maritime history, from its discovery by Polynesian navigators more than 1500 years ago, through the great whaling era to the present day.  The world's largest marlin caught by rod and reel is on view here (1805 pounds!).  The Maritime Center is open daily, except Christmas Day.
—The Manoa Valley, with its fertile soil and abundant rainfall, was both a rich agricultural area and a retreat for the Hawaiian chiefs.  Now, through the work of the non-profit Manoa Heritage Center, this area is being preserved in both its natural and cultural forms, and tours are available through the Native Hawaiian Garden, and to the historic Kuka o o Heiau (sacred meeting place).
   The 3.5 acre Garden is planted with beautiful, fragrant tropical plants and flowers, both indigenous and introduced, many of them now on the endangered list.  You'll see the papala kepau, or "bird catcher tree", with its sticky pods to ensnare birds flying by; the ancient Hawaiians would capture the birds, pluck their coveted yellow feathers to be used on royal cloaks, and then let them go.  And the akai, "fish poison plant", which would be pounded and thrown into the ocean; its properties would stun the fish just long enough for them to be grabbed!  Heritage Center tours also include the 1,000-year-old heiau, built of lava which once flowed right down into the valley; today, Hawaiian 4th graders studying their heritage make field trips to the heiau of their ancestors, leaving behind little food offerings. The heiau was restored in 1993 and is the last intact temple in the area. Tours are by reservation only: call (808) 988-1287.
—The shopping/dining complex, Waikiki Beach Walk, has been revamped with a huge infusion of capital. It's a great place to stroll.  And check out the free cultural activities offered there daily: lei making, Hawaiian language lessons, ukelele classes, hula lessons, and "talking story" sessions with locals.  There are also regular concerts and dance performances.  Visit www.WaikikiBeachWalk.com for schedules.
ART & ARTIFACTS
—While Honolulu is dotted with historical gems — small museums and historical houses and places of interest to learn about the state's natural and cultural history — the Bishop Museum is its centerpiece.  The largest museum in the state, it was built of lava rock in 1889, by Charles Reed Bishop as a tribute to his wife, Bernice. At age 25, the Glens Falls, NY native arrived in Honolulu, found work as a bookkeeper, and met Bernice, a princess.  Bernice, just 16, was bethrothed to a cousin; at age 20, she was able to talk him out of the contract, leaving her free to marry Charles. Their marriage lasted 35 years — a true Hawaiian love story.
—The impressive Bishop Museum, the princess's tribute, houses a fine collection of 18th and 19th century native art, as well as collections of contemporary, antique and vintage art and artifacts. And a natural collection that includes 14,000 insects and 100,000 fish specimens (most of it in storage).  The museum has the world's largest repository of Hawaiian and Polynesian artifacts. The Hawaiian Hall, currently being renovated and set to re-open in summer 2009, will feature a recreated heiau and a couple of features kids will love: the huge hanging whale with its skeleton exposed; and the fish god — a statue still in place.  This historic carving was to be moved during the renovations but the workers were simply unable to dig deep enough to unearth him. So what you see a few feet from the ground up is a mere tip of a fish god!
   Kids will also want to head over to a newish addition, the museum's Science Adventure Center, where they can do hands-on exploring of all the elements affecting the Hawaiian environment.  They can climb up onto a platform and peer into a model of a bubbling volcano, and then go downstairs and into the volcano's base.  They can run through a lava tube (tunnel), and pump water to create an eruption.  In the grounds, you're likely to catch a lesson in hula dancing or lei making. The Bishop Museum is open daily 9am-5pm, except Christmas Day.
—If Hawaiian art brings to mind pictures of tropical beaches with swaying palm trees, you should know that Hawaii was the first state in the nation to enact, 40 years ago, an Art in Public Places Program whereby one percent of the construction cost of new state buildings must be used to display artworks. When the Hawai'i State Art Museum (known to the locals as "Hi SAM") opened up in 2002, many of these pieces were brought into the collection. This light-filled smallish space (by New York standards) now boasts the largest and finest collection of work by Hawaiian artists.  It's well worth a visit to view the scope of the media housed there, much of it unique to mainland eyes. Traditional art media is placed alongside ethnic pieces like Hawaiian umeke (wooden calabashes) and quilts and Japanese shizu embroidery and raku pottery. Enriched by Diversity: The Art of Hawaii is the permanent collection, with rotating pieces, which adults will enjoy. Exploration Station is a special area for kids where they can create on a felt wall and have hands-on fun with recreated, small-scale versions of art that is currently on display in the galleries. Tuesday-Saturday, 10am-4pm; admission is free.
—Set in a 1925 home on a hill overlooking 3.5 acres of rolling lawns and Japanese-style gardens, The Contemporary Museum is the only museum in the state devoted to modern art. A must-see for kids here is David Hockney's permanent, walk-through three-dimensional environment inspired by the Ravel opera, L'Enfant et les Sortileges (The Child and the Enchantment), created in 1983 (complete with glow-in-the-dark images).  Kids will also be intrigued by the outdoor tennis court painted over with huge hibiscus flowers. The museum is open Tuesday-Saturday, 10 am-4 pm; Sunday noon-4 pm.  If you can time your visit to the first Saturday of the month, kids can join in on an 'Expression Session' and do art projects related to a current exhibit.  These run 10:30-noon, and 1:30-pm, and the fee is $12.
—Check out what's on view at the University of Hawaii Art Gallery.  Forget the college location; these galleries produce world-class shows. We were lucky enough to catch Excelling The Work of Heaven, an exhibit of 700 exquisite objects of personal adornment from Imperial China.  They present five to six shows a year, two of them major; and every three years, the International Shoebox Sculpture Exhibition. A call goes out worldwide for submissions; artists must produce one work that can fit into a shoebox. The next show of these mini-marvels will be on view in March 2009.  The galleries are open throughout the school year; closed Saturdays.
—At age 12, tobacco heiress Doris Duke inherited her father's fortune.  At 23, she married; her honeymoon was a world tour.  Oahu was the last stop on this extravagant jaunt, and it was on a hilltop overlooking the blue Pacific that Doris fell in love with Hawaii and decided to build one of her several dream homes.  Over the course of 60 years, Doris would return to her Shangri La for three or four months over the winter season; it became a private sanctuary, visited by very few guests.
   Three years ago, the Doris Duke Charitable Foundation opened the house to the public and now runs tours for small groups (fee is $25).  As you wander through this stunning home/museum, you'll begin to understand why she named it as she did.  A great collector, Doris Duke loved Islamic art with a passion. When she died in 1993, her Islamic collection totaled some 3,500 pieces.  Hundreds are showcased at Shangri La, the home she designed herself.  If she couldn't find just what she wanted on her extensive travels of the Middle East, she would commission the work. The rooms have been left as Doris designed them, and everything you see here, from the tiled walls and floors to the gushing fountains, embroidered wall hangings and ceramic vases, is museum quality.  The mihrab  (the door-like piece of the wall in a mosque that points to Mecca), which she installed after wrestling it from the Met Museum in New York, is priceless.  The secret Mughal Garden is breathtaking. Tours run Wednesday through Saturday; minimum age is 12. Call (866) DUKE TIX to reserve.  NOTE: You may want to reserve several months in advance.
Where we stayed
   The website www.visit-oahu.com offers travel planners and accommodation lists, but if you can splurge, check out my two personal favorite Waikiki beachfront hotels:
—Moana Surfrider, 2365 Kalakaua Avenue.  Reservations/info: www.moana-surfrider.com.  Offers the Westin Kids Club October thru June, for ages 5-12.  Available half- and full-days ($50/$80); activities include water sports, Hawaiian arts and crafts, and field trips.
—The Royal Hawaiian Hotel, the legendary "Pink Palace of the Pacific", 2365 Kalakaua Avenue.  Reservations/info: www.royal-hawaiian.com.  Young guests can use the Kids Club at the nearby Moana Surfrider. And guests can sign up for the partnership program with Sea Life Park, Dolphin Connection.  NOTE: The Royal Hawaiian is closing in June for renovations, and will reopen at the end of this year.
Info:
—Bishop Museum: www.bishopmuseum.org
—The Contemporary Museum: www.tcmhi.org
—Hawaii Maritime Center: www.bishopmuseum.org/exhibits/hmc/hmc.html
—Manoa Heritage Center: www.manoaheritagecenter.org
—Queen Emma's Summer Palace: www.DaughtersofHawaii.org
—Shangri La: www.shangrilahawaii.org
—University of Hawaii Art Gallery: www.hawaii.edu/artgallery
—For more info on all the venues mentioned here, plus details on Honolulu's theater, ballet and symphonic offerings: www.artswithaloha.com.  This website includes a Calendar of Cultural Events.
—For more info on Honolulu: www.visit-oahu.com