Brooklyn resident Tanea Smith draws inspiration for her online stationery boutique from everyday life with her two children.

Quick Stats: Tanea Smith lives in Brooklyn with her fiancé James and her two children Brandon and Jada, 15 and 3, respectively.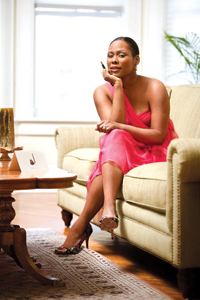 Tanea Smith is bursting with inspiration. A visit to her daughter's pediatrician, a family member's divorce, even a run on the treadmill have given Smith ideas for her online stationery boutique, She's Got Papers. A passionate journal writer and calligrapher, Smith's ideas about body image, self-love, dreams, and even her experience as a teenage mother, have shaped her unique collections for business professionals, girlfriends, moms, kids, and babies. With products like the "Baby Business Card," and "Learner's Permit," She's Got Papers is meant to foster etiquette, personal connections, and above all, inspiration.
Where did you get the idea for She's Got Papers?
When I was 11, my sister took me to Chinatown and bought me a journal and I started to keep a diary. Writing has always been a passion of mine and I probably have over 50 or 60 books at this point. My sister and I had talked about opening up a stationery store in 2002 and one morning she called saying, "I had this dream and I have the name for the business: She's Got Papers." She's Got Papers is actually a song that my mom played when we were kids. So when I was on maternity leave after the birth of my daughter, I realized it would be the perfect time to get started.
How did being a teenage mom inspire you?
Once I had my son, Brandon, it really gave me the spirit to forge ahead and do things that I probably wouldn't have ever done. I made the decision very early on that I wasn't going to be on welfare-it just wasn't going to happen. My sister worked for a law firm when she graduated from college and an attorney was getting rid of his typewriter so my sister brought it home for me. When Brandon napped, I taught myself how to type and my very first job in the financial industry was as a receptionist.
What were the steps involved to getting the business off the ground?
My brother-in-law is an attorney and I spoke with my sister a lot about what the business model would be. I knew I wanted it to be an LLC and I wanted to have total control over it. I also knew that I wanted to finance it with cash as much as I could and be sure to stay true to my vision.
What do you wish you had known before you launched the company?
I wish I had known how hard the juggle would be because I still have a full time job and I have two children who-because they're far apart in age-have vastly different needs. Also, I think when you're creative you have to learn how to separate yourself from the business and it's something I'm learning to do. And I also wish I had known that everything I love-because I created it-everyone else will not necessarily love.
What do you think was the biggest key to your success?
Relatability. I have my own niche and since I'm not doing traditional stationery, there is literally something in this collection for everyone. What I'm doing you don't see everywhere.
How do you compete with the digital sphere?
Papyrus, Hallmark, and American Greetings are in business and making money, so I did research to find out if there was a niche for what I do. That's what really keeps me encouraged because I know that this is something that can be done. You can't stop the digital revolution but my customers are people who practice etiquette and I don't think it's something that's ever going to die.
What's the best part of your job?
It all comes from my head and I can create it all. Also, I have people who work with me that totally get my brand.
What's one piece of advice you have for a mom who wants to launch her own business?
You must have a strong support system; your spouse must be on board because if he is not, you can forget it. Also, know what your vision is. Everything will evolve but it should still have that core vision. And know your financials and get a really good accountant. Above all, have fun with your brand because it's uniquely personal.
How do you manage work/life balance?
I have a lot of help and it takes a team of people to do what I do. Every hand is on deck. My parents watch the kids when I do trunk shows. My son's job is to ship all of the orders. I write the monthly newsletter and my sister edits it. I'm extremely organized and every single thing I do gets written down.
What's next?
My focus this year is to get my wholesale account set up and do business with other stores. Next year, I would like to open up a She's Got Papers store.
For more information about Tanea Smith and She's Got Papers, visit www.shesgotpapers.com.