ADVANCED DIGITAL
   If you want to look like a pro, Nikon has a lightweight digital SLR camera,
D40
, that gives amazing picture quality.  The $599 camera is bulky, but easy to use, with eight pre-set modes, and a flash override that lets you take photos in low light situations where flashes aren't allowed.  There is in-camera editing, to correct red-eye, crop photos or brighten dark ones.  The D40 comes with an 18-55mm lens.  For more information, go to
www.nikonusa.com
.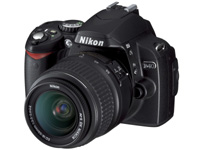 SURROUND SOUND PLUS
   Listening to music all over your house can now be done seamlessly — and wirelessly — with
Sonos
.  A Sonos Bundle ($999) gives you a remote and two 'zone players' so you can access the music.  You can expand the capacity to up to 32 rooms (!) and you won't interfere with your neighbor's music; each remote only works with its zone player.  The remotes have improved search features, like a keyboard so you can type in an artist's name; it also comes with SIRIUS Internet Radio and Pandora, and synchs perfectly with subscription music services like Napster and Rhapsody.  The new models also let you access your iTunes music library.  It does all this without connecting to a computer, but if you want, you can use a Mac or PC as an extra remote control.  Sonos products are sold at Best Buy; or go to
www.sonos.com
.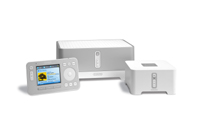 HI-TECH ALARMING
   If the thought of DIY give you hives, you have no worries with
InGrid
self-install alarm systems.  These digital systems, which can be used in apartments or houses, integrate with computer broadband.  The fully monitored system works with a cordless phone, a console, and sensors that can be put on doors, or even a liquor cabinet to warn parents that a kid has opened a 'forbidden' zone.  A Basic Kit, for up to 1,500 square feet, is $199 per year (includes monitoring) or $129 for a three-year contract; a larger home kit is $299 or $199/three years.  And for those who rent their homes, InGrid can be taken with you and used elsewhere.  
  InGrid is also good for parents whose kids come home alone; a key-chain remote allows each kid to have her own remote and access code.  If the kid loses the remote, you can just disable that remote and not have the whole alarm system compromised.  Or if your child forgets to alarm the house, you can do it from the website.  You can buy the system at
www.ingridhome.com
.