Cut Down Those Bills


   Tweens and teens can keep in touch with the Sony mylo COM-2 Personal Communicator.  They can make free Skype calls, instant message (through AIM, Google Talk and Yahoo Messenger) and surf the Web.  The mini-communicator (we luddites used to call such devices phones) slips in a pocket and includes an MP3 player, digital camera to post directly onto Facebook and video camera for easy YouTube uploads.  No monthly fees or contracts; you just need access to a wireless connection. $299.99 at www.sony.com.
Home Advantage


   If you find yourself using your cell phone more and more, but want a handset to use at home, Panasonic's Link to Cell offers the perfect solution.  The Link to Cell KX-TH1211 connects a Bluetooth-enabled cell phone to cordless handsets in your house. Link to Cell works for one or two cell phones and is expandable to up to six handsets, so you can have multiple phones throughout the home. $99.95; $39.95 each additional handset at www.panasonic.com/LinktoCell.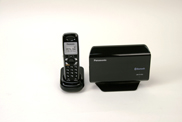 Internet at a Glance


   If you have a high speed Internet connection and a wireless router, you can get a Chumby, a new device that gives you updated Internet content in a hurry.  You can check weather, news, sports – there are 700 'widgets' in 30 categories, and you can even use it to stream photos or play Internet radio.  There is an interactive touch screen that kids can use to play games. In latte and black, $179.95 at www.chumby.com.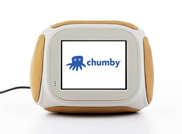 Pro Photos


   A new camera may not improve your photography skills, but with Adobe Photoshop Elements 7, you can get a 'do-over.'  There's a new editing option where you can eliminate extraneous people who wander into your shot, and you can finally get a family photo with everyone smiling, eyes open, with Photomerge Group Shot.  The easy editing tools also allow you to whiten teeth or make the sky bluer.  $99.99 at www.adobe.com.