In this age of email, instant messaging, chat rooms and blogs, it's easy to imagine that human connections are all about typing on a keyboard. Not so for a number of moms in Westchester who are using technology to connect with other moms through a website called Meetups.com.
A group in northern Westchester has called themselves the Peekskill/Cortlandt Stay At Home Moms (SAHM) Meetup Group. Their home page offers a wealth of parenting information — from identifying babysitters, to setting up play dates, to establishing some much needed "me" time. And they are not alone. The parenting section of www.meetup.com lists groups covering all areas of parenting — from newborn issues to parents of children with special needs. A quick search returned 30 topics and 24 meetup groups in the White Plains area alone. (Interestingly, there are currently no groups for parents of teens in our area — but that's another story).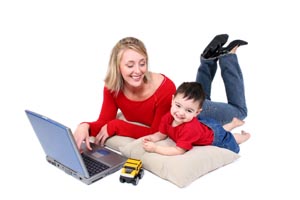 A meetup group is a collection of members who share a common interest and meet regularly face-to-face. Groups gather in a variety of locations: restaurants, libraries, private homes.
Each group has an organizer who acts as the main contact for all activities and events, and is primarily dedicated to keeping the group viable. She emails others through their website on Meetup.com, keeps members aware of scheduled events, welcomes new members, and generally keeps the online discussions flowing. Although the website does not charge an individual fee to create an account, join a member group, or attend events, there is a monthly group fee billed to the organizer and usually split by the members. The website also offers extensive help and technical support to the group. An Organizer Forum, created by existing groups, helps others get started and promote their groups. Members are encouraged to make their group attractive by creating a group description, displaying photos, and offering events to meet face-to-face.
Meetup events are usually held in public places and provide an opportunity to bring your child to meet other children the same age while you share ideas and stories with other parents. For example, in January, in addition to its monthly meeting, the Peekskill/Cortlandt SAHM group held a playtime at a local amusement spot, had a pizza lunch another day, and a "Creative Memories Get Together" one evening.
There are a number of mommy meetup groups to explore in our area. "The Dashing Divas" is a group of moms with children ranging from newborn to 5 years. They have 36 members and have held 10 events since they began in November. One member commented, "I am so happy I joined this group. It has given me a chance to meet some wonderful people, and make some great friends. It's so helpful to have people you can turn to with questions and have them know where you're coming from." The Twenty Something Moms of Westchester are based in Yonkers. The longest running group in our area seems to be the Northern Westchester/Putnam SAHM Meetup Group which was founded April 15, 2003 (perhaps after focusing on tax deductions!). They boast 60 stay-at-home moms and 78 events thus far. One member stated, " This moms' group is great. Everyone is so nice and willing to try all sorts of activities to keep the kids busy."