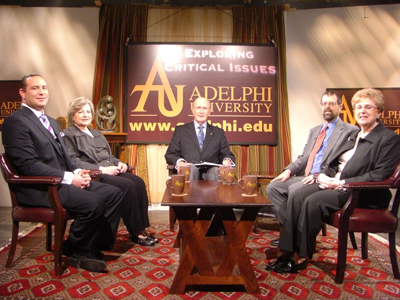 (Uniondale, NY) - Exploring Critical Issues, the award-winning broadcast series conceived and hosted by Adelphi University President Dr. Robert A. Scott, and produced by Telecare Studios, examines the research and policies affecting those with autism and Asperger's syndrome in a one-hour broadcast airing this May as follows: Sunday, May 8, and Sunday, May 15, at 7:30am and 10:30pm; Tuesday, May 10, and Tuesday, May 17, at 2pm; Thursday, May 12, and Thursday, May 19, at 9pm. "Autism and Asperger's Syndrome" can be viewed on Cablevision channels 29 (Long Island) and 137 (NY area outside of Long Island), Verizon FiOS channel 296 and simultaneously online at www.telecaretv.org.
The Exploring Critical Issues format features a distinguished group of experts exploring a topic of significance to New York area viewers. Joining Dr. Scott for the discussion on "Autism and Asperger's Syndrome," is Dr. Stephen Shore, assistant professor of education at Adelphi University, who focuses his research on exploring ways to meet the widely diverse needs of people on the autism spectrum; Brad Gerstman, Esq., legislative attorney and advocate for improved science and autism services; Dr. Judith Cohen, professor of education at Adelphi University and author of Succeeding with Autism; and Patricia R. Schissel, LMSW, executive director of the Asperger Syndrome and High Functioning Autism Association (AHA), Inc.
"Statistics point to a rise in the numbers of children diagnosed with autism and Asperger's syndrome," said Dr. Scott. "My guests are in the forefront of rallying to bring awareness and solutions to this phenomenon and I'm very grateful for their appearance on this latest Exploring Critical Issues program."
Watched by more than seven million households, Exploring Critical Issues has earned three Telly Awards, the cable equivalent of the Emmy.

For more information, visit www.telecaretv.org.