TEN TIPS FOR A SAFE AND HAPPY HALLOWEEN
Related: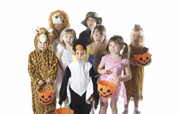 All kids love to trick-or-treat, but remember these important guidelines to ensure that your kids remain safe...
• Always travel in small groups, accompanied by an adult if under the age of 12.

• Refrain from dressing up in very long costumes and oversized shoes, which can easily cause you to trip.

• Walk, do not run, from house to house.

• Travel only in familiar neighborhoods.

• Only stop at houses or apartment buildings that are well lit.

• Remain outside the door and never enter a person's home.

• Wear reflective tape on costumes and bags so you are visible to traffic and other trick-or-treaters.

• Always walk on sidewalks. In neighborhoods with no sidewalks, walk on the left side of the street, facing traffic.

• Always cross streets as a group on established crosswalks.

• Whenever possible, use makeup instead of masks. Besides being uncomfortable, masks can obstruct a child's view of traffic, steps, and holiday decorations.

• Never eat candy before returning home and having a parent or responsible adult inspect it.
Visit www.toxicwastecandy.com for more Halloween safety tips.
---
Get Your FREE Indoor Activity eGuide!
---
More Safety & First Aid Articles
Fire Prevention Week Promotes Working Smoke Alarms
Ask the Expert: What Should I Know About Sudden Cardiac Arrest?
Ask the Expert: What Should I Know About CPR and CPR Training?
Ask the Expert: What are the Booster Seat Requirements for Kids?
Ask the Expert: At What Age Can Children Legally Sit in the Front Seat?